Arriving directly from the Cotes d'Armor, in the north-east of Brittany, my confinement trip now takes me to Finistère (still in Brittany).
The day had just dawned when I arrived aboard BRAD PEAT in the village of Plomelin near Quimper. I had the secret hope to discover the distillery specializing in buckwheat distillation, DISTILLERIE DES MEHNIRS, and to taste the famous 2004 15 years old forgotten! But once again I was faced with a closed door and a new take-off of my hope.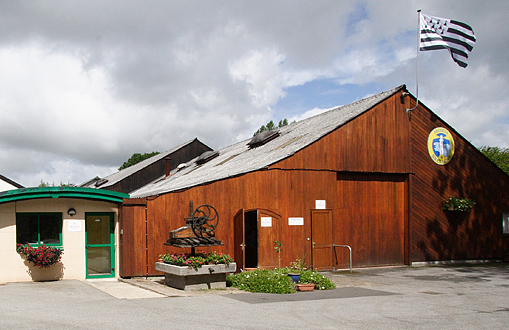 I would have liked to see this distillery where we have been producing whisky in family since 1986 (whisky since 1996). At least since 1986, at least here in the Pont-Menhir valley, because the real family history dates back to 1921 and is the one of a family of an old-fashioned mobile distiller who used to trace the road to boil apples.
So it won't have been for this time yet! I couldn't meet the LE LAY family who, at the price of long magical experiments, invented buckwheat whisky (which is called EDDU in Breton, how strange!). I won't be able to see their two stills which produce whisky by hand (like the boiling ancestors in their remoque!) and I won't be able to see their beautiful ageing cellar where they found the 3 famous forgotten casks from 2004 (which produced the 654 bottles that can only be found here).
Nevertheless, I find a message hanging on the gate stating that a secret tasting was taking place further east near Rennes, in the forest of Brocéliande! Phew!
So here I am again with BRAD PEAT heading East for two hours on roads emptied of their cars by the ugly corona.
I arrived in Paimpont en Ille et Vilaine, parked BRAD PEAT next to the pond and left on foot in the direction of the famous Brocéliande forest.
At the end of 30 minutes of a walk which led me near the tomb of Merlin, the souls already quite rare in the confined village, had completely disappeared and I found myself alone and without indications in this forest which was becoming increasingly dark.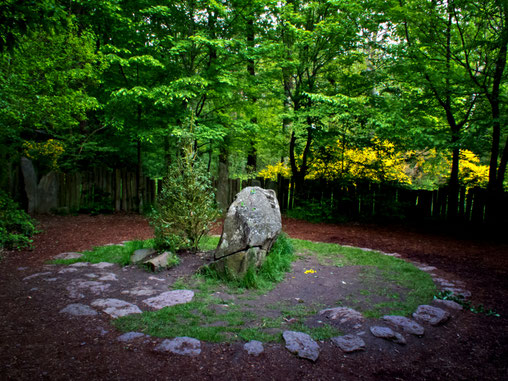 I was seriously starting to think that I was going to be able to say goodbye to my tasting, when, suddenly, I heard a thicket making a noise; enough not to make a fuss in this forest full of legends!
A voice began to call out to me: "Hey! Aren't you the Parisian who broke his teeth in front of the Menhirs distillery?". Not enough to reassure oneself, frankly!
I then saw a little being who didn't really have an easy physique (as Coluche used to say)! Barely taller than a Bordeaux jeroboam and with big pointed ears: a korrigan. He came out of the thicket and came towards me: "My name is Raoul de Gaël and I am the apprentice of the druid LE LAY. He asked me to bring you to him so that he could make you taste the elixir of youth".
It wasn't really the time to be difficult, so I followed my new friend who was gliding silently through the forest, running like a wildfire. We sank inexorably into the mystery of Broceliande. As the mist rose from the trees, all you could hear were the sounds of green woodpeckers digging their holes and the sounds of birds chirping in the early spring. It sounded like Concorde Square in the middle of a confined area 😉.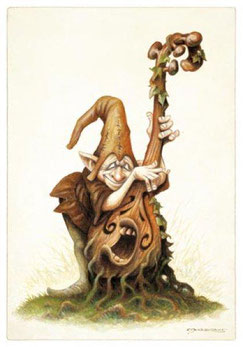 After a few minutes of walking, we arrived at the foot of a majestic waterfall above which a golden tree was enthroned. At this moment the korrigan turned towards me and said: "welcome to the Val No return, the Druid LE LAY is up there in front of the golden tree". As quickly as he told me, he disappeared into a thicket and it was alone that I finished the ascent to this mysterious tree.
Arriving in front of the golden tree, I faced a man dressed in a large white robe and adorned with a large white beard (certainly another one who let himself go during the confinement!). He said to me: "Demat parizian! you braved the confinement to come and see me so I'm going to show you how I transform water and buckwheat into single malt and make you taste it" (in Breton in the text!).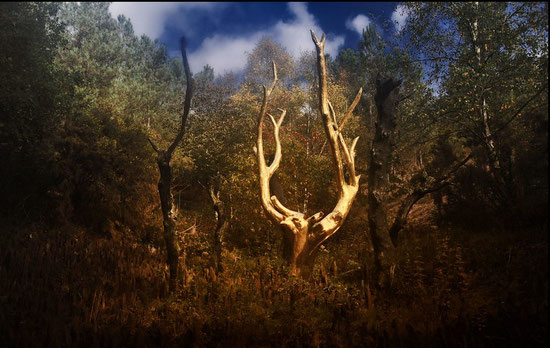 I'll show you how, with a handful of buckwheat seeds, you can turn water into single malt. He leaves the golden tree, takes a glencairn and goes down to the bottom of the waterfall to get some water. Once back up to my level, he shows me the glass, takes a handful of buckwheat seeds, throws it in and throws himself into mysterious incantations: "treuzfurmiñ l'elbrouz en hini-kreñv" (I'm going to turn water into single malt in English in the text) and other words that I'll give you thanks for and that only druids can understand (anyway I think the letters are not on the keyboard!). A bit of time goes by but... nothing happens ! He saw my incredulous look and smiled at me and said : "Ok, you also need a knock still and a flame heater to transform it ! ».
He then turns around and goes right next to the golden tree and takes out a bottle stamped EDDU 2004 ! The druid LE LAY tells me "if we don't taste water transformed into single malt, we will taste a whisky that has remained at the bottom of our cellar for 15 years in an old cognac cask".
I was reassured!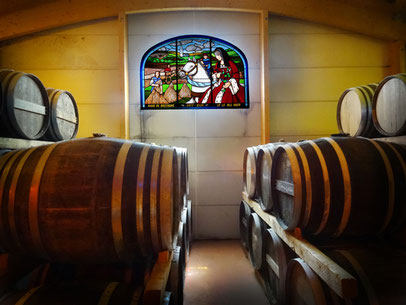 The liquid he poured into my glass had the colour of a rather clear eternal amber stone (which means that Cognac barrels can colour distillates as well as sherry barrels).
Before we started tasting, he told me that this whisky, already quite limited when bottled, was becoming more and more rare and that I was lucky to be able to taste it outside the distillery (the only place where it is sold). He also told me that it brought eternal life for the one who knew how to appreciate it. That's still to be seen, but I'm willing to try it!
Barely above the glass, my nose detects the typical "buckwheat" note! Fresh and flowery! As I brought the nose closer to the glass, I discovered the source of the freshness: lemony notes mixed with an apple scent. I lifted my nose to get some fresh air from the magic forest before plunging back into the meanders of the olfactory discovery of this 15-year-old. The second passage warmed up the atmosphere by filling my nose with much more cereal, woody but also fruity notes. Running through my nose was a mixture of dried cereals and ripe fruit which, when mixed together, created a smell close to that of vanilla.   
Just before I began the actual tasting, the Druid LE LAY repeated a few incantations in Druidic language and finished with a "yec'hed mat" (health).
The signal was given to begin the tasting.
This buckwheat whisky first entered the mouth with the sweet sweetness of an apple pie, but slyly like a Trojan horse, it quickly delivered spicy assaults and great freshness. As I watched the druid revel in the liquid, I kept it for 15 seconds and discovered in my mouth the freshness of the Brocéliande forest on a misty morning. Woody and vegetal notes. I even discovered a hint of anise just before swallowing.
Once finished I looked at the waterfall and the golden tree, and felt the last sensations of citrus and still freshness in my throat.
The druid told me that buckwheat whisky would bring eternal life! It's not proven yet and if it's like turning water into single malt it remains to be seen! He also tells me that unfortunately, I was reaching the end of my time limit and that I was going to have to go back to BRAD PEAT and continue on my way!
It was with great sorrow that I said goodbye to my host and found the korrigan that helped me get out of this Val which is supposedly without return.
My tour of Brittany was coming to an end. Maybe I'm going to take another tour of the Scottish lands.