As soon as I left the tasting next to the Champs Elysées, I received a message from Florian G. (for anonymity) who is rampant in France on behalf of GLENGLASSAUGH, GLENDRONACH and BENRIACH.
He asks me if I want to measure by myself the "women touch" on a peated whisky. You know me, all tastings are good to take (and when it comes to peat...). Besides, with confinement trips time doesn't count.
Direction Montmartre for the appointment. I find Florian at the foot of the Butte empty of tourists. He heads towards BRAD PEAT and tells me "how long does it take with your van to get to Speyside"? I tell him, as usual, a snap of the finger. So here he is going up and says to me: "Well, direction Elgin, north of L'Ecosses. We are going to go for a walk in the BENRIACH distillery, I would like to make you taste two whiskies of 10 years peaty but with two different recipes (and especially two different master blenders -NDLR-) ".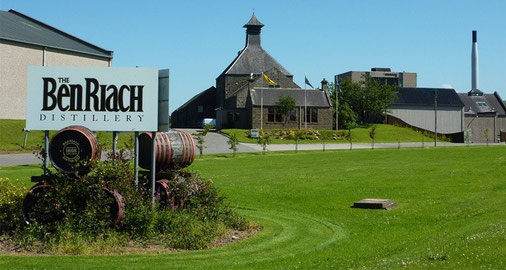 Nous voilà ainsi de retour sur les terres du Speyside. Au centre du village d'ELGIN. Nous prenons l'A941 en direction du sud. A peine 5 minutes plus tard nous arrivons devant un panneau posé sur des fûts : BENRIACH DISTILLERY. Sur l'un des tonneaux une date 1898 et en arrière-plan un bâtiment avec un toit pagode ! Nous y sommes.
Nous sommes devant une distillerie plus que bicentenaire, et comme toute distillerie de cet âge on peut se douter qu'elle a eu une vie trépidante faite de hauts et de bas ! Nous arrivons devant un stock de fûts à en pâlir plus d'une distillerie. Les bâtiments sont entourés de fûts de toute tailles qui attendent au soleil de recevoir le précieux liquide. Florian profite de notre arrivée sur site pour me résumer un peu l'histoire de la distillerie.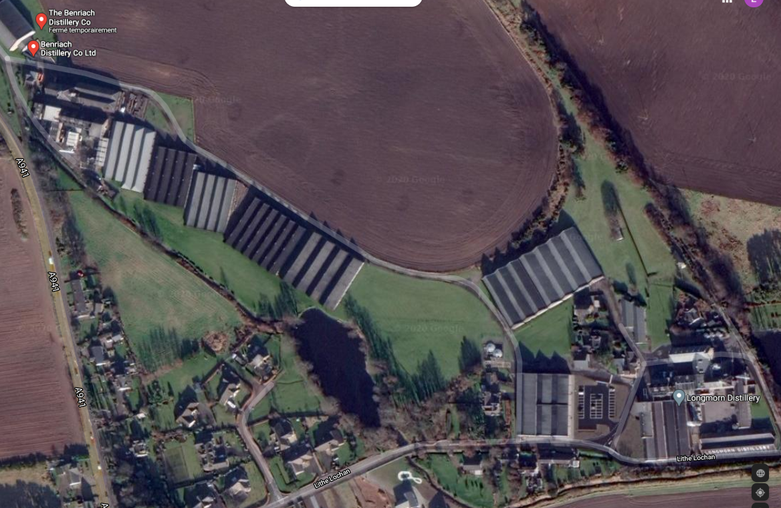 It was therefore created in 1898 by a certain John Duff who had already created several distilleries, such as the twin distillery of Longmorn 4 years earlier (which is almost identical to the one we have today and which means that at the beginning the distillery was called Longmorn 2). Personally, I don't know John Duff, but it's important to know that it's him who trained a certain Masataka Taketsuru at the beginning of the 20th century, so we can consider that he knows his job.
On the other hand, one can imagine that he was a little less sharp on the commercial level. Indeed, when he created the distillery, the production was already well under way in Scotland and there was even talk of over-production. So, to sell the distillates, he turned to blender brothers named Robert and Walter Pattinson (not the twilight ones but the others). This relationship allowed him to sell a large part of his stock. However the sales are made on credit and the Pattisons in question, their parrots and their advertisements are not enough to sell all the stock and they go bankrupt, bringing with them a large number of distilleries (as if it was not enough for Robert Pattinson to create crises in the couples, his ancestors already had to create crises in the whisky -NDLR-).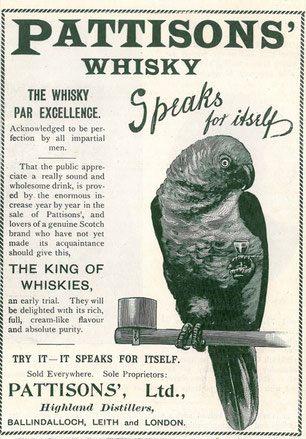 In short, as you can see, the distillery closes quite quickly after it opens and it will be a long time before it reopens (65 years!). In 1965, the distillery started working again under the aegis of GLENLIVET and slowly managed to go through different owners, until it was bought in 2004 by Billy WALKER and his gang. Her presence will moreover give birth to the first single malt that we are going to have today, the 10 year old CURIOSITAS.
Finally, since 2016, the distillery has been bought by the BROWN-FORMAN Group and its malt selections are operated by a certain Rachel BARRIE arrived in 2017 (who will change the CURIOSITAS recipe in 2018 but we will come back to this).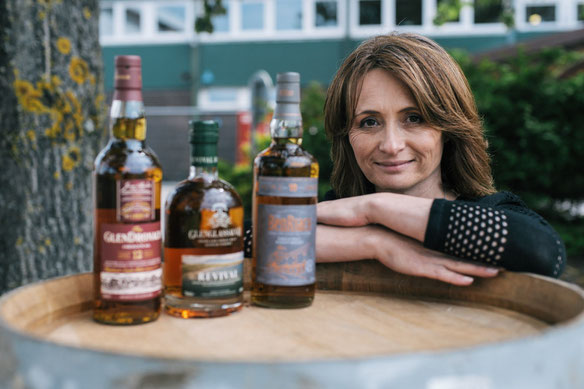 Here we are, the decor is set just as we arrive in front of the distillery's front door (surrounded by...barrels you get the idea). After a tour (which I let you discover in the video below) we go to one of the multiple warehouses of the distillery.
Inside, the abundance of barrels continues and it is now accompanied by a multitude of colours on their bottoms. Big Sherry Butts Oloroso or PX, Hogsheads, bourbon casks, wine casks, Portuguese Madeira and Port casks, Spanish Rioja casks and even rum casks and small quater casks! The least we can say is that in the middle of one of the scotch paradises for every amateur, at BENRIACH it is a paradise for master blenders.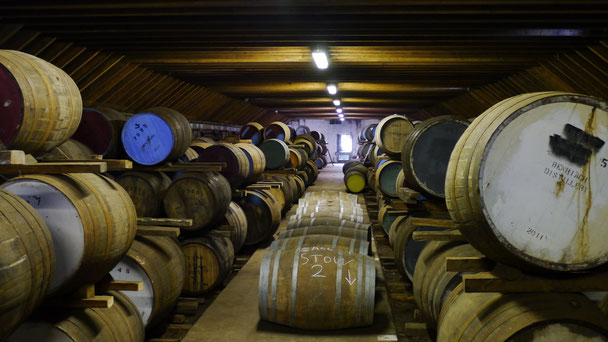 I also understand why, until recently, the range of the distillery was so extensive (almost 30 references each made with different casks up to the WALKER air). It's enough to make a wine merchant's head spin when a customer says "I would like a bottle of BENRIACH! ».
I also understand why, under the brand's new look, the choice was made to rationalise everything and to offer "only" 7 references (2 of 10 years, 2 of 12 years, and 1 of 21 years, 25 years and 30 years).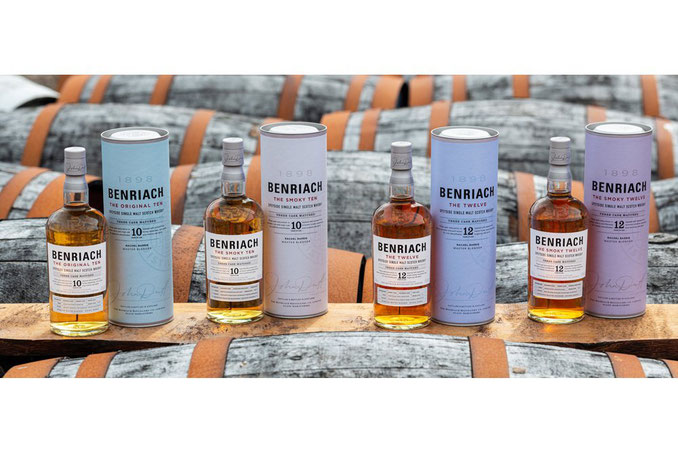 In short, it's for this change in positioning that we came today, since Flo, proposes me to see the difference between the 10 YEARS (SINGLE PEATED MALT) CURIOSITAS (first recipe) and the brand new SMOKY TEN (recipe created in 2018).
Even before pouring it, you only need to have the two bottles in your hand to see the difference.
The CURIOSITAS warns you "here's a bottle with a label as black as dry peat". The SMOKY TEN features the brand's new graphic charter with simplicity and clarity. No need to turn the bottle upside down to know what it's made of, everything is on it.
Precisely what is the difference between these two peated whiskies. Well, as far as CURIOSITAS is concerned, Billy Walker hadn't looked for embellishment or extravagance: peated barley aged in first-fill bourbon casks. As for Rachel BARRIE's SMOKY TEN, the recipe is more complex. The barley is still peated, but the ageing process is more complex: bourbon casks like its predecessor, but to which have been added new oak barrels and above all rum casks !  
So what about these two distillates which both have the same gold colour?
The 10 year old CURIOSITAS will at first glance be much warmer.
When the nose plunges into the glass, it immediately detects a peat which is meant to be terrestrial (as opposed to a maritime peat found in Islay). You will almost feel like you are on a farm with a beautiful smell of land, fire and grain.
The heat of the distillate will intensify on the second passage with the arrival of the smell of ripe fruit (pineapple) and spices. The third passage will cool down with a stronger smell of barley.
On the side of the new SMOKY TEN, the nose will discover a much fruitier and fresher distillate.
However, the alcohol is more present while the percentage of alcohol is the same (46%) and the peat is much more reduced. One can note the presence of citrus fruits during the first passage.
At the second passage, the agricultural character of the Speyside distillery makes its appearance with barley and peat. On the third passage, the smell becomes softer and goes more on the sugar of the honey.
Overall the smell of this distillate will be a little more complex. Nevertheless, we can find points of similarity with the CURIOSITAS but at different moments of the tasting.
The time to toast with Florian and then we move on to the tasting.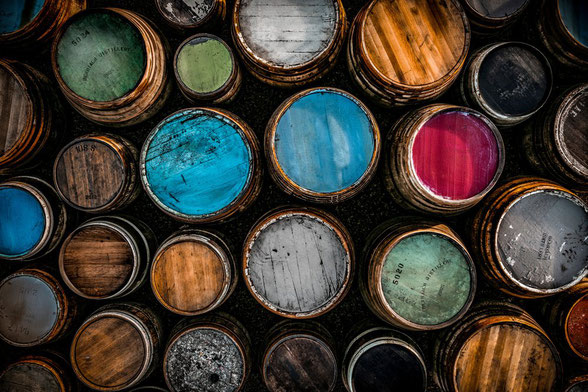 The CURIOSITAS attack in the mouth is very fruity and spicy.
We detect spices that bring up peppery notes on the nose. The spices coat the mouth well but after a few seconds they disappear to give way to sweeter and sweeter notes of vanilla and especially to the taste of peat smoke.
When swallowed a minty and peaty note remains in the throat.
As for the SMOKY TEN, as soon as it enters the mouth, it will reveal itself and show that it has passed through a barrel of rum. A nice woody aroma (which you might find on a Jamaican rum) shows itself first.
It is quickly followed by a hint of spices and pepper that goes straight to the palate and gives a marine character to the liquid. However, it will soon soften to a very fruity and peaty aroma. Its journey in the mouth will thus continue gently with beautiful peaty notes.
It is these peaty notes that will linger in the throat once the tasting is over. It is accompanied by a hint of liquorice.
Both versions prove to be very good peaty Speyside. Nevertheless it is quite incredible and difficult to explain that when you have both in hand (and in the mouth) you can find them very different and yet very close (the aromas do not arrive at the same time). Without wanting to make a cliché, the first one will be more raw and masculine while the second one will be softer and more feminine. The expert's paw and his choice of ageing.
It is with great regret (as always) that with Florian we get back in the van to leave Speyside and return to France. But as I know it's for new peaty adventures, it's not too serious !