As JOHNNIE WALKER makes us understand, everything is deserved but you have to know how to walk to enjoy a nice tasting.
So, we left Aberdeen at dawn, heading south (it's supposed to be the best time for ghosts -NDLR-), as we have an appointment at Dunnottar Castle on the east coast of Scotland. We are in the Highlands but more precisely in Aberdeenshire. Why this place, you may ask? Well quite simply because today we will taste the third part of the BLUE LABEL "GHOST & RARE": the GLENURY ROYAL which is none other than the distillery (closed of course) in the nearby town of Stonehaven.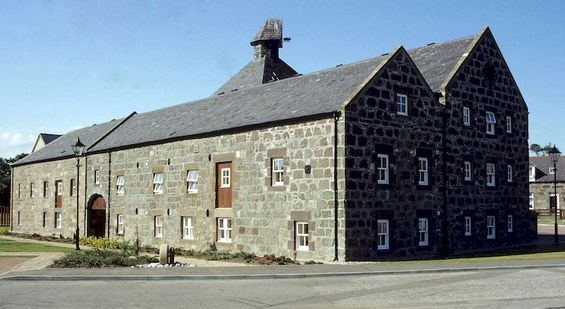 JOHNNIE WALKER often makes us travel with very varied and nevertheless tasty composition (we'll come back to this but I remember an adventure in the northern territories with its white-walker). So this one deserves we'll walk.
After leaving the Vauxhall in the central square of Stonehaven still asleep, we took a small street that led us to the harbour. By the time we got there, there were only fishermen and we wandered through the nets on the pavement. As is often the case in harbours, it didn't smell like whisky yet and it didn't smell like roses either. We had to climb up a hill to reach a bandstand that stood proudly between the sea and the valley south of the village.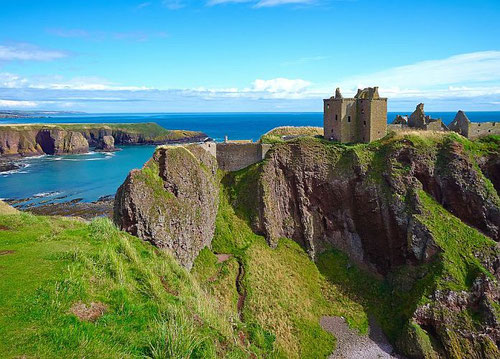 At the top of the ridge we can already see Dunnottar Castle, proudly enthroned on its rocky spur, a little further south. We started to shudder because it is said to be haunted by 3 ghosts: a little girl dressed in green tartan, a dog and a long-haired warrior who doesn't leave the guards' room (where we had to go!) and who would protect a mysterious bottle. Brrrr it's creepy. "keep walking.
The desire to taste a BLUE LABEL GHOST & RARE being stronger than the fear of ghosts, we went on our way.
The ruined fortress stood proudly on the rocks facing the sea. Once we reached it, we had to go a little further on a steep hill, go down many steps that led us to a pebble beach (where at this time only a few seals are basking), then go up some more to finally arrive at the gate of the castle.
There was no noise except for the waves breaking at high tide on the cliffs and the wind rushing through the strangely open door!
No one was there.
Our calls went unanswered, so we decided to go back anyway. Behind the door, the steps continued past other doors, porches and windows. On one of the doors it could read "jailhouse". As curiosity is a nasty flaw we did not deprive ourselves of looking through the bars of his window. And that's when we came face to face with a skeleton that gave us the creeps.  However, we quickly realized that the good man (what was left of him, at least) would not hurt us much in his condition and behind his bars. We continued our ascent.
The steps finally ended and led us to the esplanade of the castle. We were in the middle of the ruins on a large expanse of grass. We were there at last. The scenery was beautiful in the morning as dawn broke. A sign will help guide us through these well-preserved ruins.
On our right were the ruined houses and the room of the girl in a kilt (another time). Today what we were looking for was the guards' room (the beautiful and well-preserved drawing room). It was on our left behind the chapel and the cistern.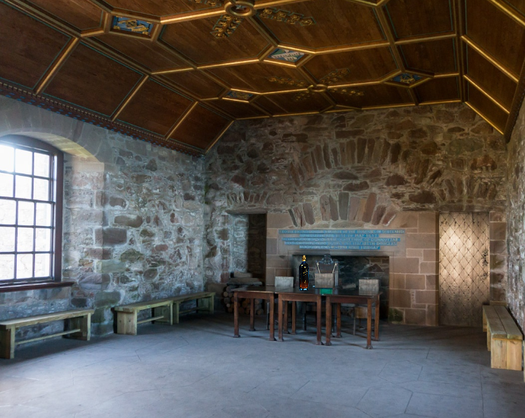 We finally arrived at this part of the castle still intact. Facing a closed gate. He thinks you have to knock four times to see if the ghost is there! Ah, the legends... We knock four times without hope. Yet a shiver went through us when the door found itself.
After a string of rooms we finally arrived in the room with its decorated ceiling. In front of us, in front of the fireplace on which was written "in commemoration of the defence of Scotland ..." a table and in the middle a deep blue bottle and glasses! At last, here we are!
As we moved closer to the table, a breath came out of the fireplace. It was followed by a thick white smoke.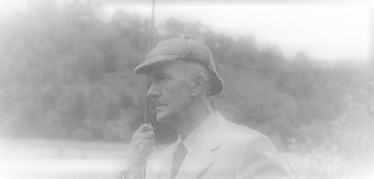 The smoke amplified the room and, as it dissipated, gave way to a man dressed as a soldier in a cape...the ghost!
The latter looked at us and said: "I am Robert Barclay Allardice d'Ury" (better known as Captain Barclay famous for having walked 1,000 miles in 1,000 hours for 1,000 guineas in 1809 and creator of the GLENURY ROYAL distillery in 1825). "What are you doing here?" Timidly we announce to him that we have come to taste the BLUE LABEL on the table. He looks at us and proudly says "Do you know that I hold my Royal Seal of King William IV? "(only with ROYAL LOCHNAGAR and ROYAL BRACKLA to benefit from it to this day). He ends up telling us "taste my whisky with respect and grandeur" and then turns again into a cloud of smoke and after walking through the room melts towards the chimney wall.
That's when we discovered that new inscriptions had just appeared above the hearth. It was a list of distillery names:
- GLENURY ROYAL (the now defunct Stonheaven distillery);
- PITTYVAICH (closed Speyside distillery near DUFFTOWN);
- CAMBUS (also closed distillery situated between Glasgow and Edinburgh at the bottom of the Forth estuary);
- GLEN ELGIN (located in Moray not far from Inverness);
- INCHGOWER (also located in Speyside);
- GLENLOSSIE (also in Speyside);
- CAMERONBRIDGE (Grain Distillery opposite Edinburgh);
- GLENKINCHIE (located in the south of the Scottish capital).
No more and no less than the long list of distilleries chosen by Jim Beveridge (Johnnie Walker's master blender) to create his BLUE LABEL " GHOST & RARE " GLENURY ROYAL.
Below this list you could also read "Slainte mhath"! Maybe this ghost is nice after all.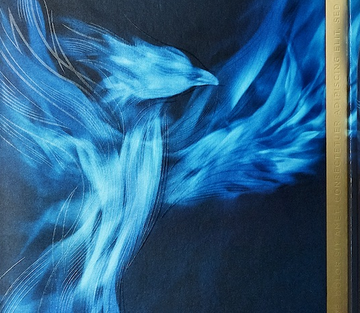 All we had to do was taste it now:
From the beautiful blue bottle flowed an amber copper liquid which already announced us a beautiful moment and above all perhaps a little sherry finish (which we well deserved considering the adventure we have just lived).
 A draught crossed the room as if to tell us it was time to go for it.
First we dived our nose into the glass.
The first notes that appeared were fresh and very fruity. Ripe pears, apples, pineapples that mixed in a jumble. The alcohol, although at 43.8%, was not too aggressive but came out on the second nose revealing a pleasant caramelized nut cake. And, paradoxically, the third passage transformed the warmth of the beginning into spring freshness. This whisky showed a great complexity (it must be said that it is a blend of 8 distillates -and we only talk about the distilleries and not about the whisky ages of each of them) and let appear a leathery note.
On the palate, it is first of all sweetness which came with a hint of honey. Then some more dried fruits and almond notes. After a few seconds a nutty note appears stealthily to pass quite quickly to that of dark chocolate. As for the nose, the end of the tasting was made on fresher and woody notes.
Once swallowed, a taste of vanilla, unripe apples and wood remained on the palate for quite a long time.
Another great tasting and a great adventure as Scotland makes us know it.
Once our glass was finished, a new draught came out of the fireplace, crossed the room and opened the door of the "Drawing room"! It must have been our friend Captain Barclay who wanted to tell us that it was over and that we had to leave now and go back...walking of course!