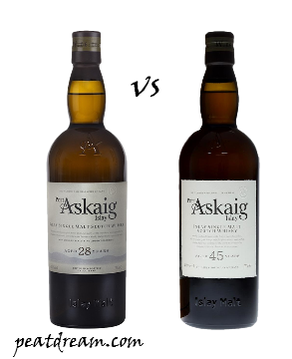 When we arrived with BRAD PEAT at the edge of Loch Ardnahoe, My lord was still waiting for us with a big smile on his face.
For this 100th tasting he WANTED US TO TASTE some exceptional "Elixirs".
We were going to do a worthy versus: PORT ASKAIG 28 years vs PORT ASKAIG 45 years! That's all there is to it.

Before tasting we re-situate ourselves east of Slay on a majestic site for all lovers of peat and nature: behind us the Loch, on our right less than 3 miles away the village of Port Askaig, just next to the Caol Ila distillery. On our left, less than 2 miles away, the Bunnahabhain distillery. Opposite us the new Ardnahoe distillery which we knew was under construction and whose chimneys have now started to spit their vapours, and behind it, on the other side of the Sound of Islay, the Paps of Jura.
Although we are lucky enough to see a magnificent groose come to see what is going on on this sunny day on its territory, I can assure you that we are not going to discuss about fauna and flora with our friend.
In his hands the same two brown smoked glass bottles with just two different numbers: 28 and 45.
For the tasting, honour to age, My lord makes us start with the oldest: the 45 years old! If we start with this one it's simply because it will be sweeter than the 28 year old because it's not peaty.
Let's get to know each other:
This whisky was distilled in Bunnahabhain in 1968 and stayed 44 years in a first cask and finished its ageing for 1 year in 5 different sherry butts. It has been bottled in 2015 by ELIXIR DISTILLERS at 40.8% but is still a Cask Strength! As much to say that during 45 years some (the angels not to name them) did not hesitate to help themselves !
It is febrile that we launch out in the tasting of this whisky edited in only 300 copies and whose basic price approaches 1400 € the bottle.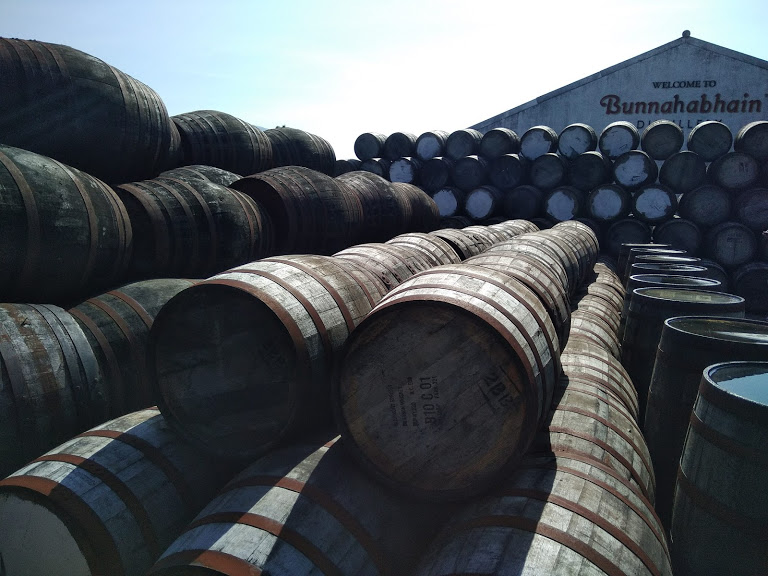 What about this bottle ?
When this dark whisky lets its fragrance evaporate in the nose, it is a delight of sweetness. This whisky is very fruity and sweet. The nose is invaded by fruits such as banana or ripe mango. At the second passage this sweetness stays on the sugar but leaves the warm countries to go in the orchards with aromas of ripe pear and apple. The last passage of the nose brings us back to Islay with fresher, rather floral notes.
Feverish to have in our hands a whisky as old as we are, we are going to proceed to the tasting. But don't forget to take a deep breath because, as is the custom, you will have to keep it in your mouth for 45 seconds! 
The long journey begins with the announced softness on the nose (warmth and no aggression) with warm and thick banana aromas on a background of honey. Then citrus fruits make a stealthy appearance to switch to woodier and fresher notes. Spices (cardamom) then make their entrance bringing with them a little freshness and some floral notes of a mint base or to stick instead of heather.  
This silky journey ends in the throat with long buttered and warm aromas and after a few moments the fresh notes of cardamom are recalled.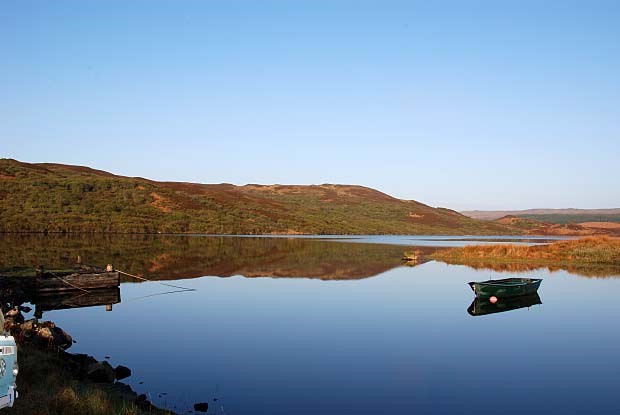 Let's just take our time. My Lord tells us to wait and take advantage of this moment of solemnity to let this tasting disappear in our minds before moving on to the second bottle which will be diametrically different. We look at the beautiful reflections of the valleys on the loch and even have the chance to see a trout fly. 
We're fine!
Well that's not all but we still have a second 28 year old Elixir (the kid) to taste.
My Lord introduces us: this whisky has just spent its 28 years in mysterious second filling hogshead American oak casks. Nobody really knows who distilled it. The only thing we do know is that it comes from the south of the island and is slightly peaty. 
What do you want so much mystery we crave....taste!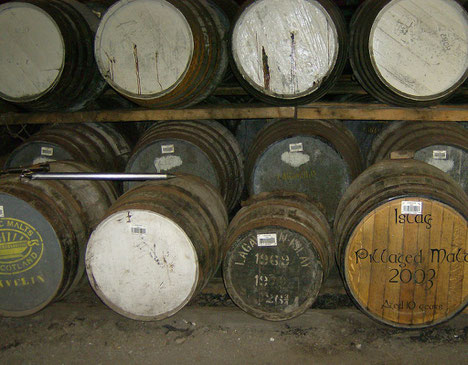 The liquid flowing through the glass is golden and looks like liquid gold.
The difference is striking. When the nose plunges into the glass it directly feels the peat smoke. Not intrusive but still present. Compared to other peated whiskies it is not mellow but rather fresh or even slightly minty or even maritime. We are clearly not on another Bunnahabhain. Let's take some fresh air to discover light citrus fruits and spices. We go over it a third time and a background of nuts appears which add roundness.
But where could this peat have come from 28 years ago? Talking with our friend as he announces a 45.8% gross cask, he launches us in French with his wonderful accent: "on pense peut-être qu'il viendrait de Lagavouline"! The info is not final but it is released.
Enough to put peat in our mouths.
Let's taste it.
The difference with the first one is striking. No more mellow and sweetness, we are here with a fresh peated whisky. The peat is nevertheless light and iodized. It is accompanied after a few moments by herbaceous, spicy and liquorice notes. By keeping it, there 28 seconds (don't count however but enjoy) it will round up and let appear finally more mellow and woody notes. Really different from the first one but just as superb in its own way.
The finish of this whisky is also quite long but there too different. It will leave in mouth a real freshness of sea spray with a light acidity and a smoky background.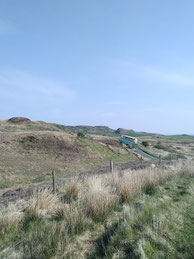 Two beautiful and rare references.
In the end, if you are attached to the taste of PORT ASKAIG you will only pay "only" 390 € and will choose one of the 3000 bottles of the venerable 28 year old and if you wish a real discovery of softness and lightness (quite far from the references of the brand) you will choose the 45 year old (ok "a hair" more expensive!).
It is on this beautiful tasting that we go back to BRAD PEAT and bring our friend back to PORT ELLEN before leaving for new adventures.