It is on a cool and misty morning that we land at the port of Port Ellen on the south coast of the island of Islay.
I then head to the Ardview Inn pub, whose only sea view table is often by old Bill, with whom I have an appointment this morning. But today, I realize that he has found a sidekick.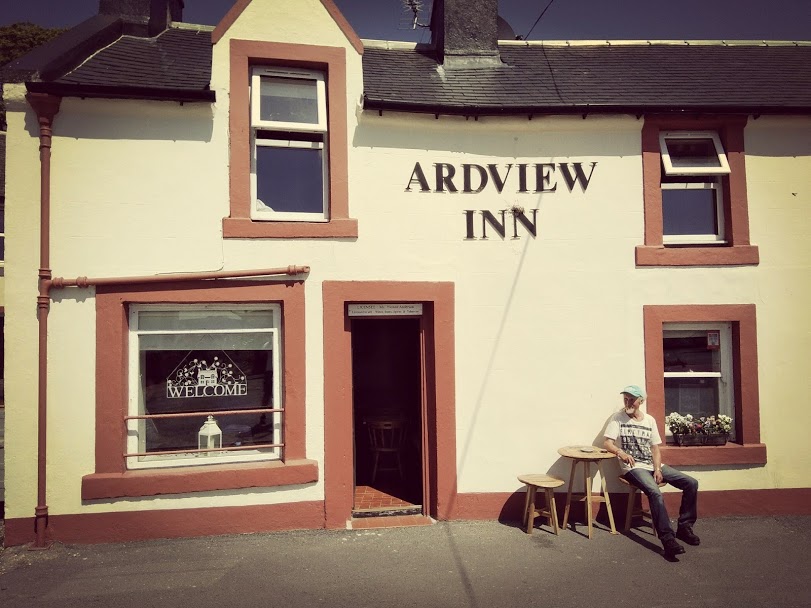 I greet the two men in my now almost perfect Scottish: "Hi guys! An umha againn?" (local banalities). The stranger with a thick beard looks at me with an air of challenge and says to me (in Gaelic but I'll do it for you): "Tell me Kid, Bill told me you like the whisky of the Island. I have a mission for you." He handed me an empty flask and told me to put some BIG PEAT 25 years old on it but without touching the bottle behind Magnus (the bartender -NDR-) and he made me taste something exceptional.
You think I accept! I throw "geall air a chumail" at him (bet taken).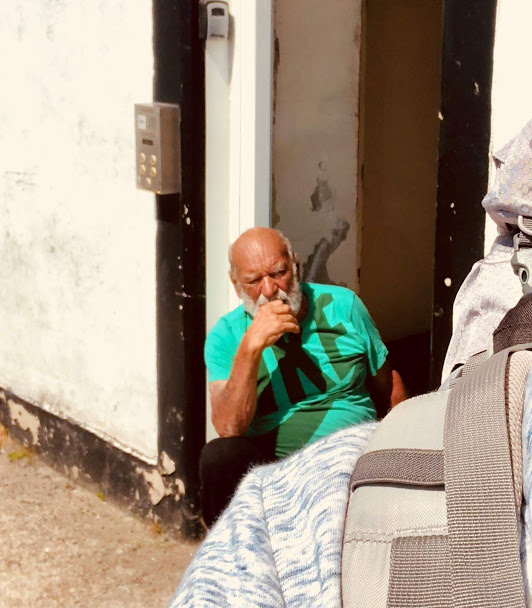 So I'll have to come back to see my contacts in the distilleries: what a godsend.
 Let's think about what's in the BIG PEAT: a little ARDBERG, a little BOWMORE, a little CAOL ILA and PORT ELLEN and two others but more mysterious! I have everything at hand, I'll only need the two mysterious ones, but that should do the trick!
I'm going to pick up a bike from my friend Jim next door. Direction the south east of the island to start with the most peaty: ARDBERG. By the way, I can only remember some nice memories: the peat field where I had the chance to plant my little flag of FRIENDS OF LAPHROAIG, at LAGAVULIN with a memory of a simple but wonderful 9-year-old on the banks of the Skerrols loch. Although I suppose they may be the two missing ones, I won't stop there because I don't want to make a bad choice. The guy told me he wanted BIG PEAT and that's all he wanted.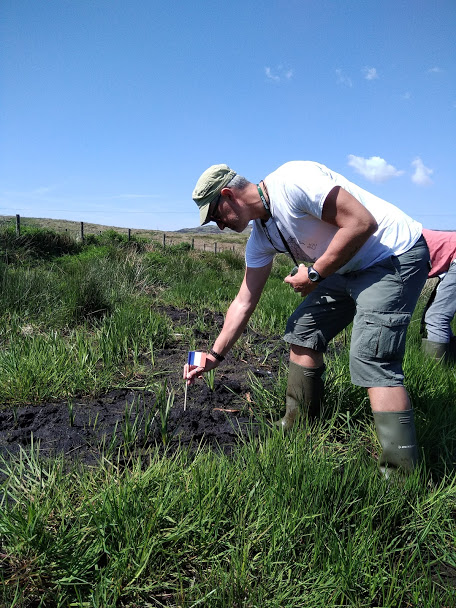 After a few kilometers, I arrive in front of the distillery with its air of end of the road to the south. Facing me is the turquoise blue bay. As a member of the ARDBERG COMMITTEE, I introduce myself and share my mission with Jess and manage to negotiate some decilitres of Lord of the Isles (aged some 25 years). She has a little smile when she wishes me good luck for the future (!?). First part of the successful mission.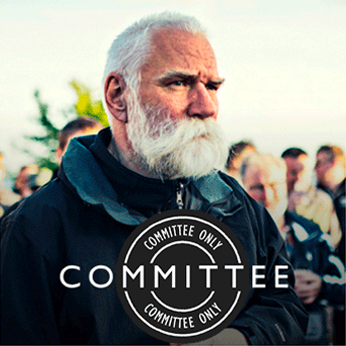 Now I have to go north to see my friend Nigel in Port Askaig. By bike, by road, for having already done it, I think I'll be there for a long time, so I'm going to go by the east coast. The road takes me to Ardmore and the Kidalton Cross. There, the eastern road stops but I take the coastal path. It climbs northwards through Claggain Bay and along the strait separating the island from its sister Jura.
The magnificent landscapes with the mist rising! A landscape that must be deserved because it will take me more than 2 hours to get to Port Askaig. As David from Bunnahabain told me, "It's not L'Alpe D'Huez, but the last Km are a bit "Tour of Flanders" maybe? :) » ! Head a little higher up to the CAOL ILA distillery.
I meet my friend Nigel there who gives me some decilitres of the magnificent 30 years of age that I had already had the opportunity to taste with him. He too wishes me good luck for my mission (but also with a mocking smile?!!).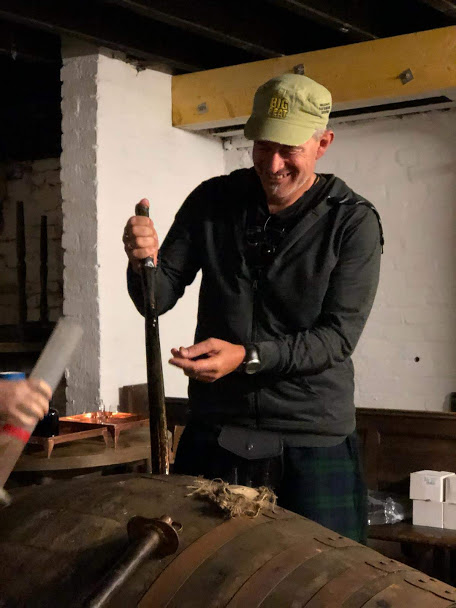 I go back to the center of the island in the direction of BOWMORE. In this direction, the road that crosses the island and more downhill it will certainly be easier than on the way there; however I have not eaten anything and hunger is starting to be felt.
 Once I had refuelled at the Spar de Bridgend, I finally arrived in front of the bay. On my right Port Charlotte (not today) and on my left Bowmore and Port Ellen (it will be that way!).
So we headed for the distillery in the port of Bowmore. There, I meet our friend Cat who drives me in the N1 Vault and gives me a few decilitres of a magnificent 25 year old just out of the barrel. As she leaves, she wishes me good luck but also with a strange smile (it must be a local custom!!!).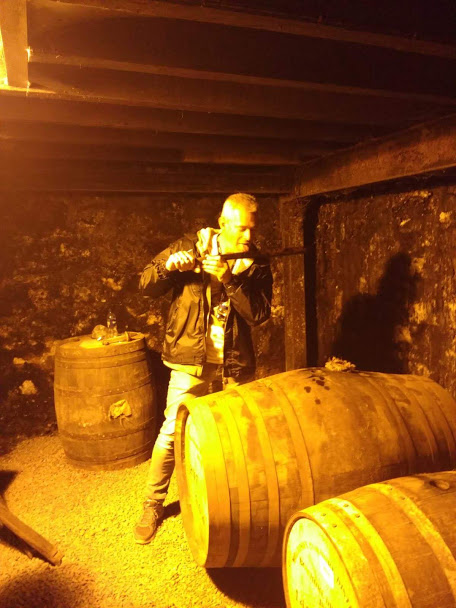 I then head south past the city's round church and my last stop: Port Ellen.
A few more drops and I'll be able to find the two men and drink with them.
Arrived on the spot I pass by the distillery but unfortunately there I find clause holder! Damned, I hadn't thought of that, it's been closed for a few years now and the drops distilled here are very rare. I could have asked my friend Kjell to give me some (he still has the best bottles) but by the time the liquid arrives from Oslo it would be too long.
I failed on the wire. Maybe that's why everyone was looking at me with smiles on their faces, they knew that only DOUGLAS LAING could do BIG PEAT.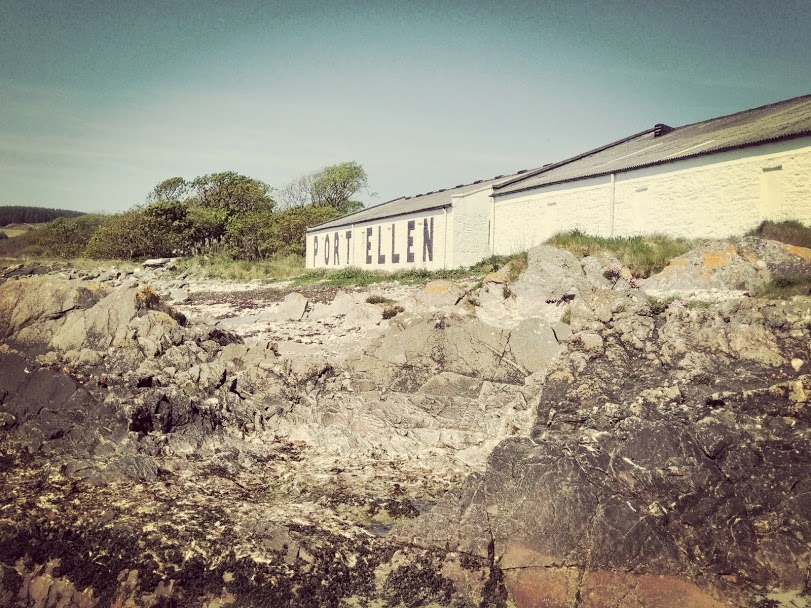 It's disappointing that I join the two sidekicks in front of the Ardview Inn; they too look at me with the same smile. I tell them about my epic, the liquids recovered and above all my final failure. Bill beckons me to sit down as I hand him my flask.
 His neighbour takes his bag and takes out...a beautiful 30-year-old bottle of Port Ellen and adds a few drops to the bottle! My smile comes back. Once the liquid has been made up, he suggests that I try it.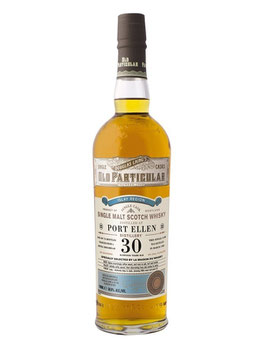 The nectar that flows into my glencairn is golden, much darker than a "normal" BIG PEAT.
When my nose first dives into the glass, it is carried away by the island of Islay: it is misty and beaten by the sea winds. I imagine myself hiding from the breeze behind a trawler whose hull has just been cleaned and treated because the aromas are so powerful and rich. You have to get your nose out quickly so you don't take the hit like the sailor from the bottle. After I regained my senses, only one desire...to go back. There, my nose and my mind being prepared for the shock, I discover aromas of spices that emerge (cloves, ginger...). But it doesn't last because very quickly, what I expected to happen again: peat. Okay, I understood and I come out again my nose to relieve it and prepare it. The confirmation is there at the third passage: smoke invaded his mind as if he was a barbecue attendant, I had stayed too long above the hearth. The aromas are quite similar to what you get with a "normal" BIG PEAT but show a little more subtlety (certainly because of their soothing in barrels over a longer period of time).
Let's taste it.
That's where it all finally happens. Once in the mouth, crescendo, it is first of all marine and iodized aromas that envelop the palate. Then more peppery and strong aromas in taste. Finally, the power of peat. I just found myself violently thrown into a chimney fire.
 And this impression lasts for a while with a finish of barbecue, overly grilled meat, fireplace fire.
What a great experience that deserved a good big bike ride and what a great day. It will end with our beautiful BIG PEAT and after eating a tasty haggis the magnificent but so rare aromas of PORT ELLEN to the sound of subtle musical choices of my friend Bill.