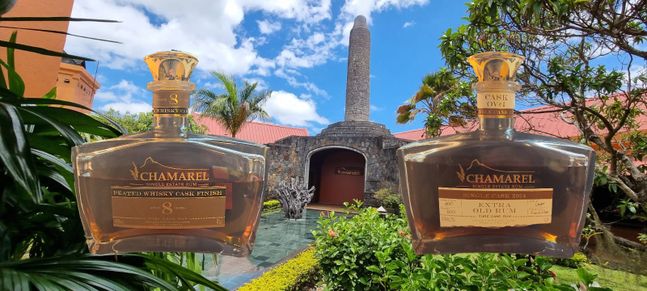 And no! My faithful Brad Peat doesn't just go to Scotland and the whisky lands! He is now going to the sugar cane lands. 
I'm going to tell you about an adventure that happened to him in the Indian Ocean during a stay in Mauritius.
On the occasion of the rum tastings (in the new section of peatdream.com), I wanted to make you discover the CHAMAREL rum factory, the Mauritian hospitality and taste two of their numerous creations: RHUM - XO - SINGLE CASK 2014 - 6 YEARS and RHUM - XO - PEATED WHISKY CASK FINISH - 8 YEARS (peatdream, however, we don't change our ways!)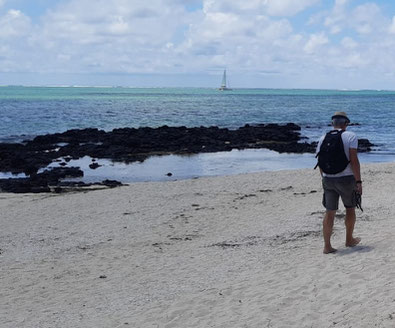 The four of us (Marie, Mymy and Francky -sobriquets used to keep the anonymity of these long-distance travellers- and yours truly) left at dawn from Tamarin on the south-west coast of the island. We had headed for the lush mountains of Chamarel to discover its famous coloured lands and its rum factory. I had an appointment there with Fabrice (@alchimiste14) for a tasting. The road had been winding since we left the coast, but it meandered through a pleasant tropical setting. 
As we approached our destination, a strange noise was heard covering even the drumming of the van's engine. No, not that! It had crossed continents, been through the worst of it, travelled through time! He couldn't have had a flat tire!
Well, no one is infallible, but my good old Brad Peat had just lost the use of one of his adventurer's shoes. It was then that, to my great dismay, I remembered that, having blindly trusted my old friend, I had not provided him with a spare wheel!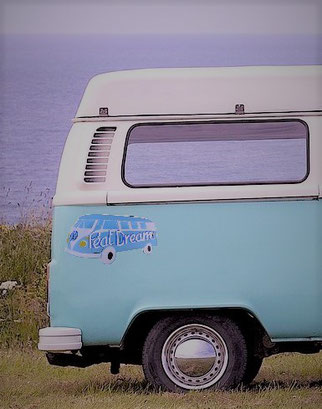 We were thus quite helpless on three legs between the rain forest and the sugar cane fields. But we had to face the fact that we would have to finish on foot (a tasting is more important than anything else) and take care of the repairs later.
We thought we were alone, but in the field along the road, we saw a man with a machete cutting sugar cane. As Mauritians are naturally welcoming (and speak French), we didn't hesitate for a second and went to meet him. He wasn't going to help us out with a machete, but at least he could give us directions.
The man introduced himself, his name was Anil and he happened to work for the CHAMAREL rum factory. He was cutting the cane that would be used to make rum. To our great surprise, we discovered that at Chamarel, the cane was cut entirely by hand (by him and only 6 of his colleagues!).
We told him about our adventures. He told us that he had noticed for a long time the noise of my van coming from the coast, but above all he confirmed that he was clearly not going to be able to help us with his machete. He did tell us, however, that we were almost safe because, cutting through the fields, the rum factory was not far to the east.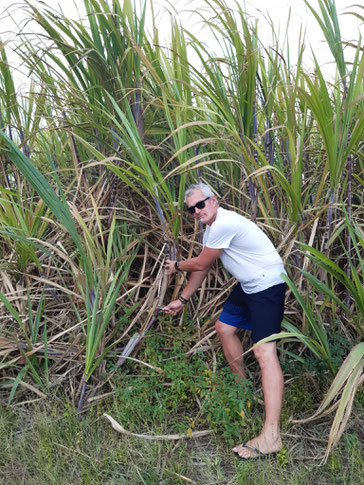 We left my poor Brad Peat on the side of the road, covered our arms (on Anil's advice because sugar cane makes good rum but it also tends to cut) and headed east (helped by Franky's compass watch and my Swiss Army knife).     
On the way, we could admire from far the plain of the 7 colours and its giant turtles and the Chamarel waterfall which plunged from the top of its 100 meters.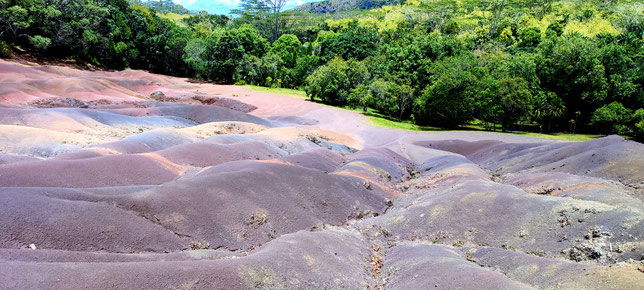 After a little more than an hour cutting through "cane" fields, on a sometimes difficult slope (the distillery is located at an altitude of 300 m), we actually arrived at the chimney of the rum factory which stood like a Mauritian obelisk!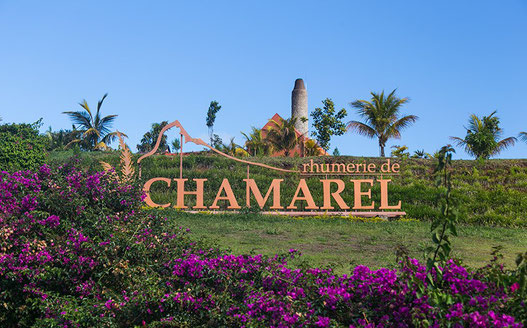 The adventure had made us thirsty but above all hungry (even if chewing cane gives some strength it doesn't fill the stomach kho-lanta is fake 😁 ).  Fortunately for us, I remembered that during my first meeting with Fabrice, he had told me that, as a good rum factory, the distillery also housed a restaurant: L'ALCHIMISTE!
When we arrived at the distillery under a blue sky and the midday sun, we were greeted by Fabrice, whom I had just contacted. As always, he had a smile on his face and was very sorry about our misadventure. He assured me that everything would be done to reseal my brave tasting companion.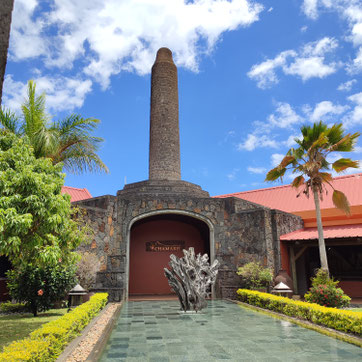 I mentioned above, the Mauritian hospitality, but here we had a magnificent demonstration. He took us to the restaurant of the rum factory to get our strength back. Frankly, if you go to Mauritius, I cannot recommend it.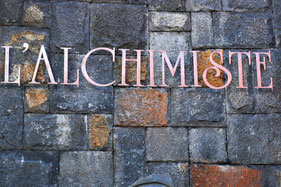 Attention small product placement 😁
L'alchimiste: an idyllic setting amidst flowers and birds, smiling and efficient staff, rums from the youngest to the oldest in profusion, house specialities (foie gras with coffee and double distilled rum, lobster, baba gorged with XO...) all washed down with ti-punch!
In short, it was a great time that tended to put us back on our feet.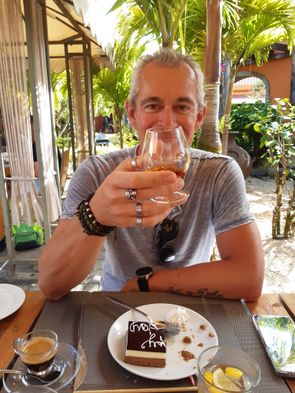 Then Fabrice came to us for.....the digestif. Finally, the visit of the distillery built in 2008 (after having been bought by the Couacaud family in 1996 to produce sugar), but I prefer the idea of the digestif (you will understand).
With him, we followed the path of the cane (since here we are talking about Agricole and not molasses).  We started with the big crusher that doesn't give the cane any chance and tears it up before pressing it several times in the presses.
The latter crushes it, presses it, dries it so that not a drop of sugar remains on the bagasse. He then explains that the poor bagasse has not finished suffering because it ends its journey in the chimney of the stills' boiler. Here, the cane goes in but never comes out (we call that self-sufficiency, don't we?).
Our journey continued through the fermentation tanks, where the sugar will be transformed into alcohol by a few degrees in a few days, before finishing its course in the furnace of the stills.
I say "DES" because this is one of the specificities of the distillery, it wants to get the best out of its cane juice, it has 3 stills: 2 for the repasse distillation and a third one in a continuous column (Bardet type column).
Two types of distillation two types of rums. Our host explains that the aim of the repasse still is to produce fine rums (only 30% of the distillate being kept) intended for ageing, whereas the continuous distillation still is more for producing aromatic white rums.
Continuing, Fabrice explains that the primary distillates are then stored in stainless steel vats for 6 months to round out the flavours.
He then takes us to discover the first stock of vats, casks and tuns under a controlled temperature to prevent the tropical angels from over-serving themselves. Despite this, he explains that the angels are taking a 5-8% cut per year (they are greedy in the tropics...)!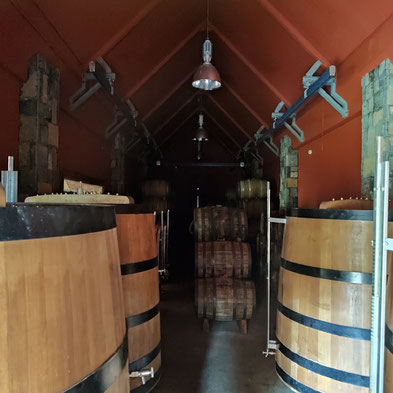 It is then that he offers us a first digestive break! So much effort.
This was the opportunity to taste a first salvo of rum. The first was white and double distilled (Premium Rum double distilled) to show the aromatic profile of this process. The other rums were all from the column still in versions either aged 18 months in casks (Gold) or flavoured with vanilla or spices. It was also an opportunity to discover the house rum liqueurs.
What an introduction under the expert nose of a fluorescent green Jehko! 
But Fabrice hadn't shown us everything, and no sooner had we recovered from this first tasting than he led us into the hidden spaces of the distillery. We walked through a lush garden, rolled around in the bagasse (yes we did!) and finally reached the second ageing cellar.
There, in front of hundreds of new French and American oak barrels, but also oak barrels that have contained different types of alcohol (cognac, PX and Oloroso sherry, Moscatel, Sauternes... and even peated or unpeated whisky) or tuns, he had set us a king's table. 
In front of us, we could discover the aged versions of the rums, mainly produced by double distillation (but also sometimes by column distillation). 3 years, 4 years, 6 years (which we will taste today), 8 years and even a venerable 10 years in its Crystal decanter (very difficult to find in our European latitudes. In short, a vast choice and a whole programme in store, from which I had to choose for today's tasting.
Anyway, enough of palaver and let's talk about tasting.
The one I'm proposing today aims to show the impact of a "long" ageing (considering the level of tropical angels) of 6 years (XO) and especially of the experience of a finish in whisky casks.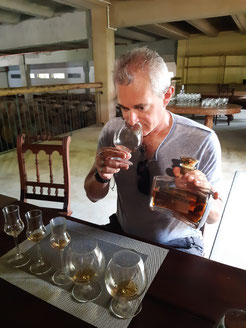 ---
Let's start with our 6 year old.
This rum is the result of a blend of 60% column distillates and 40% double distillation rums.
It has been aged for 6 years in French oak barrels, 30% of which are new, 60% are second fill barrels (having contained Cognac and wine) and 10% are storage casks.
Of course, like all good aged rums, it has an amber colour, almost Teracotta.
On the nose, on approach, one could be led to believe that it smells of prunes, as if we were dealing with an Armagnac, but there is no mistaking it, we are indeed in front of a rum.
When we go deeper into the nose, the warmth of the islands invades us with vanilla and spice notes whose spiciness believes a thread of the scent.
The spices are then accompanied by woody notes of sandalwood with nevertheless the return of a certain freshness.
We then return to vanilla and caramelised notes and dried fruit notes.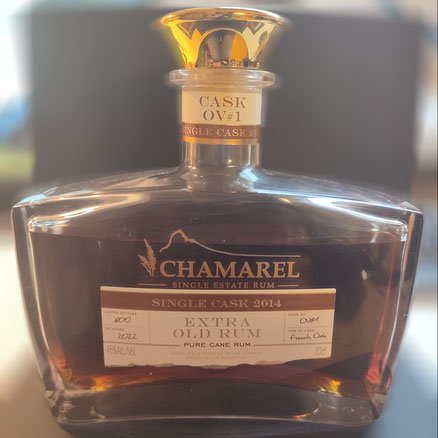 On the palate, it is of course sweet and brings you the warmth of Mauritius. Nevertheless, it will quickly unleash a horde of spices before giving way to woody notes (very slightly rancio) reminiscent of the wine cask where it has partly stayed.
But vanilla notes quickly cover the palate, while caramel notes come to lodge themselves on the tongue, accompanied by spicy banderillas.
On the way down, while the spices linger on the palate, we discover fruity notes of figs and vanilla (from Mauritius of course).
The empty glass is a mixture of exotic fruits (mango and pineapple) and woody notes of sandalwood.
---
This second rum is made for rum and whisky lovers (like yours truly), as it is made from the same distillate as the previous one, but with an extra 2 years journey in peated whisky casks (Laphroaig).
So will this finish turn our rum into a peated rum or just give it some peaty, smoky notes?
You could say that all rums are alike in terms of colour, but when you put the two bottles side by side, you realise that this is not true.
This second version, although older, is paradoxically going to be a little lighter than the previous one. It will be more of a copper colour.
On the nose, we find the markers of the 6 year old XO, with a little less fruit and more vanilla, but accompanied this time by chocolate notes that will cover the spices a little more. There is no impact of the peated whisky cask here, except for a hint of roasted cocoa beans.
Going back to it we will find some citrus fruits such as a light tangerine.
Something I love to do with whisky, is verified here with the "hand test"! A few drops and you rub. You'll discover undeniable notes of peat and tyre which prove when the peat is there, it stays even when the liquid has left the container. I love it.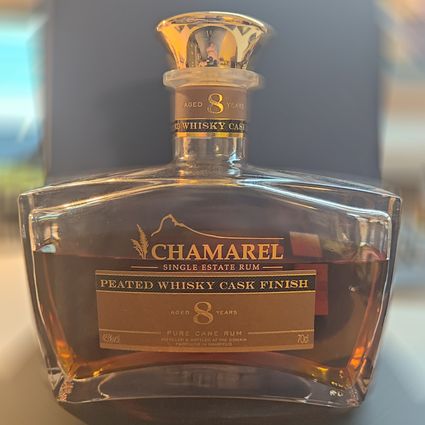 On the palate, however, it's a completely different story, as it's going to "shake up" the habits of rum lovers.
It enters the mouth gently, before releasing almost medicinal notes and a hint of campfire. Then, spices, more important than the previous one, sting the tongue. It has more pronounced vanilla notes (older) and citrus notes. The impression of peat is different from that of a whisky, as it has the appearance of caramel passed through the fire. Very interesting and surprising!
And when you swallow it, you will clearly feel the smoky and burnt wood aromas.
The empty glass will have more woody notes than the previous one and a touch of cold smoke.   
After such a tasting, one can only keep a good memory of the Chamarel rum distillery and of all the distillates it offers.
---
To end our adventure, we reluctantly said goodbye to our host Fabrice (@alchimiste14) and were about to leave this idyllic place when we remembered our morning mishap. That's all well and good but my van was still missing a tyre.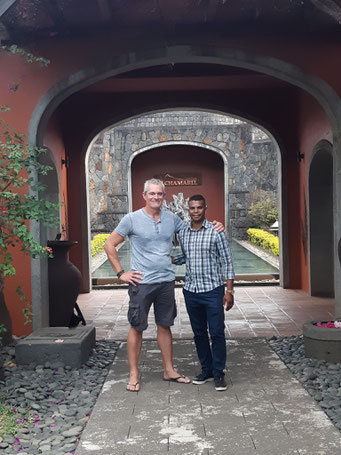 Accompanied by Fabrice, we headed to the large porch of the estate and to our great amazement, we found BRAD PEAT in the car park, wearing new rubber!
It was beyond comprehension, how had he managed to get here? The Mauritians, besides making good rum, were they not also magicians?
One thing is certain, this first rum tasting on this page has clearly made me want to discover more...
In our latitudes, if you wish to discover the rums of Chamarel, do not hesitate to go to the site of DUGAS CLUB EXPERT, you will find a good sample (the bottles will be perhaps a little different but their contents will be well the good one!)
And if you go to Mauritius, don't hesitate to go and see Fabrice and his colleagues on my behalf and to go and eat at the Achimiste! All the info is on The Rhumerie de Chamarel
You can also find all the pictures of the distillery here!