Back on dry land at Kennacraig in kintyre in the middle of the peninsula after a short passage on the Queen of the Hebrides, Islay, I find my faithful Brad Peat to continue my confinement trips. Direction the center of Scotland. Today we leave for Pitlochry at Edradour.
A little more than 3 hours of road await us while passing by the splendid landscapes of the area of Loch Lomond. After 2 hours on the traffic-free roads, I arrive a few miles from Aberfeldy, but I realize that the fuel gauge light has come on. I don't know if you know it, but here you can't say that the stations are running the streets!  And in times of lockdown... 
After a while I see a sign: Menzies Castle. Maybe there was a charitable soul who could help me! 
So I arrive in front of a high brick castle surrounded by forests. Unfortunately, there's no one there. The main gate of the castle is closed. Nevertheless, I see on the side a small door which is open. It seems to give towards the cellars of the big house.
I go down a dark staircase and I arrive in a beautiful vaulted cellar. Inside Sherry's barrels! The light is weak and only created by simple candles. Although I can't see well, I see a silent figure sitting at the bottom of the cellar. In front of her is a grimoire on which she is writing.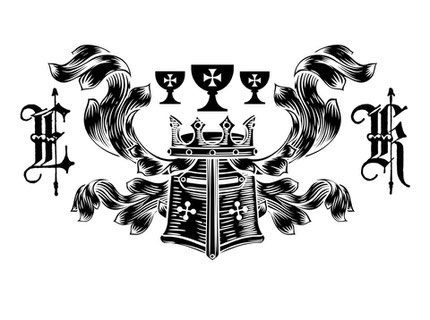 As I approach him I see his clothes: a rib of stitch and above a jaque bearing the coat of arms a large E and a K and underneath S and a V and an "in battle or barrel" doctrine. He is wearing a helmet: a Knight. I feel like I'm in the last crusade with Indiana Jones when he meets the grail knight.
Seeing me approaching, he says "Halo". He takes off his helmet and I see a smiling man with a beautiful moustache. "I am Sir Andrew Symington, Edradurian knight, master of the quaich! ", he says, " Did you pass your hands in the alcoholic solution? "(and yes, it's still confinement and knights don't mess around with barrier gestures).
I'm stunned! I went to Edradour and Signatory Vintage and here I am, when I ran out of petrol directly with the great Edradour Knight (dear to the members of the facebook group)!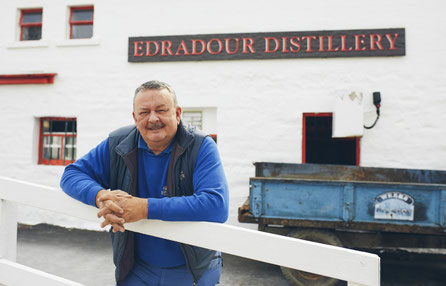 My godness! The gods of whiskey exist. But don't lead me astray, for what brought me here is more a lack of gas than a lack of sense! So I put my hands in the alcoholic solution, go around the casks and approach the knight.
"Halo Sir, I am on my way to your distillery but I am out of petrol! Where can I find some? ». The knight looks at me and smiles.  I'll tell you but before I do, I want you to know that I'm the Grand Master of Quaich and that I have to give you a taste of the water of life (uisge beatha in Scottish...which later became whisky).
In the end, if I don't refill my tank, I might also refill my gullet!
While keeping safe distances, I answer his invitation and sit on a stool.
He tells me that the distillery is unfortunately closed because of this cursed virus but that he takes advantage of it to perfect his distillation recipes in the calm of this magical water which will prolong the life of the people who taste it. Talking, he takes out from under the grimoire rest a rectangular pine box. On top of it I see a note that reads "Scotland Little Gem EDRADOUR and above all a mention that freezes me: STRAIGHT FROM THE CASK. I don't think it's a real diamond but a real gem !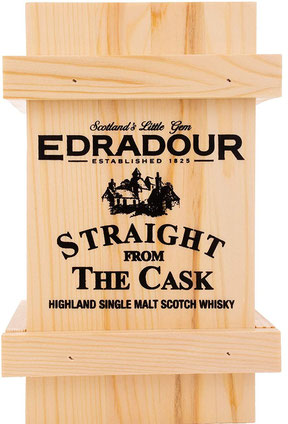 When you're a whisky lover, that's the kind of sentence you like to see! I say to myself, EDRADOUR = REFERENCE = SHERRY = PLEASURE! And then I say thank you BRAD PEAT for asking me for gas. Let's move on.
Knight Andrew explains to me that he is obliged to protect his whisky bottles with wooden boxes to avoid any accident (both for the bottle and for the person who transports and tastes it).
He then tells me the history of his distillery with red shutters (created since 1825, bought by him in 2002). He tells me that the real nugget of the Highlands is this one (for a long time the smallest one). He also tells me about his small stills which produce a very fatty distillate which marries marvellously with the sherry casks in which it is aged. He tells me about the creation of the twin distillery on the other side of the Ben Vrackie stream which gives life to the BALLECHIN peated whisky (of which I have already praised you in its OLOROSO 11 years old version).  He also tells me about the SIGNATORY VINTAGE warehouses he built not far away...
We are obviously dealing with a great enthusiast! But it's nothing new when you've heard about the Chevalier in question.
So while talking, he opened the pine box and took out a small, recognizable bottle in the middle of all the others: EDRADOUR 10 year old was sherry. 
The colour of the distillate would make many people shudder. A coppery dark brown not to be seen through due to the 10 years spent in a 500 liter large sherry butt. In its small half-litre bottle it looks like a magic potion.
 He tells me, I distilled it in October 2009 and only produced 953 bottles. A rarity even if it represents one of the reference in the whisky world. To the eye, it looks like an old armagnac. A real sherry bomb as we like them.
The nose of this beverage is very marked by dried fruits (raisins), ripe fruits and notes of roasted nuts. It smells like a very ripe, sugar-soaked burlat cherry. The alcohol notes are of course very present and the nose is quickly paralysed (we are still at 57.8%). Nevertheless, when he starts to get used to it, he discovers a hint of sweet banana. It is moreover this note which is completed with a pretty point of smoke is discovered with a few drops of water.
In the apple of the hand, the vinous and sweet notes are very present. After a while, a leathery smell appears in the hand.
The knight Andrew looks at me and beckons me, it is so much to taste eternity.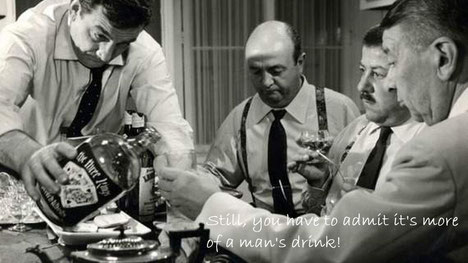 Knight Andrew looks at me and beckons, it's time to taste eternity.
"Slainte mhath," he says to me.
Watch your eyes
To quote a phrase from Audiard, "You have to admit that it's more of a man's drink! "The 57.8% explode in the mouth, bringing with them beautiful spicy notes, the rapid explosion of a lemon. Then the dried fruits make their entrance when the distillate remains in the mouth and brings with them a certain sweet roundness. When swallowed, the tip of the tongue continues to sting and a hint of liquorice adorns the back of the mouth.
Once swallowed, the final notes will be followed by a hint of raisins. The dryness and harshness of the sherry will remain in the throat but will not last too long.
The knight looks at me with a satisfied look and says "a-nis tha thu cha mhòr neo-bhàsmhor" (now you are almost immortal). I didn't ask for so much!
Anyway, I just had a very good time with a quaich master and I'm not going to abuse it because I still have some road ahead of me. I may not go to Edradour this time, it will be for another time, but I will continue my adventure towards the north and Speyside.
As I was leaving, I turned to the knight and said to him, "By the way, where can I find some petrol? He looks at me and says.
Chan eil fhios 'am, bidh mi a' siubhal air muin eich! "(I don't know, I travel on horseback!) with a wink! He ends up explaining to me that I'll find what I'm looking for when I get out of Aberfeldy ...