We are back in the north-west of Paris in the Vexin at the restaurant O'BROTHER (where we had already had the opportunity to make a peaty meal). The forest begins to dress in its autumn clothes. When I arrive on the spot with BRADPEAT I notice that today, the pond on the side of the building is even greener than usual.
I join Fabien (and his colleagues), manager of the store LA VIGNERY CERGY (@LAVIGNERYCERGY) who has concocted a very Speyside meal based on several ABERLOUR whiskies. In these times of difficult confinement to go to the banks of the river Spey, so it is easier to make it come to us.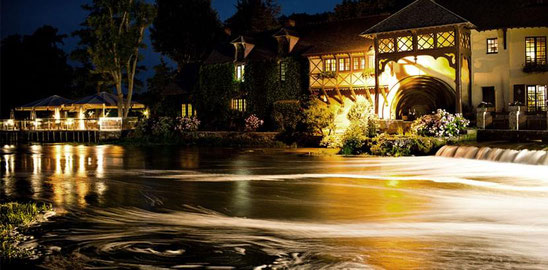 As I walked in, I remembered the good time I had spent there and today it's crowded.
Masked, I sit at a round table next to a certain Guillaume and another Tormund. We are introduced to the evening. This evening no wine, we will accompany all the dishes with whisky (like all the menus of the restaurant).
On a table next to us we see all the whiskies which will be proposed this evening:
- Aberlour 10 years "Forest reserve".
 - Aberlour 12 years old
- Aberlour Casg Anahm
- Tormore 16 years old
- Scapa Glansa
- Aberlour In Bunahb 
Nice little program!
As usual at O'Brothers, it is the man in kilt who does the service.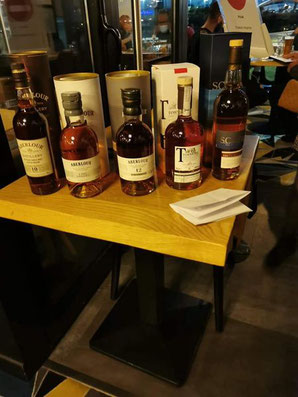 We start with appetizers as an aperitif.  It will be placed on the sign of the tuna. A tuna bite in tataki version, another with poppy seeds and finally in rillette spread version on a salted shortbread.
To accompany the whole, the waiter proposes us the new ABERLOUR 10 years FOREST RESERVE. It is presented as the new version of the well known 10 year old (aged in bourbon and sherry barrels) but with a finish in Limousin oak barrels (cocorico!!).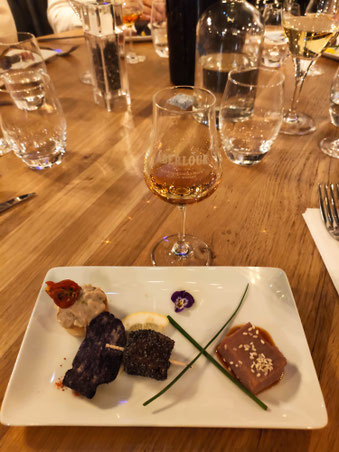 This new version aims to validate Aberlour's involvement in ecology. Indeed, if the distillery has only now decided to put forward this positioning, it turns out that it has been swimming in the principle for a long time. Indeed, like many of its sisters, it favours short production circuits by calling on speyside barley producers, distils with the water that flows in its yard, and recycles waste from cattle producers in the region.
So what about this distillate? Already it is adorned with a beautiful coppery color that shows part of its aging in sherry barrels.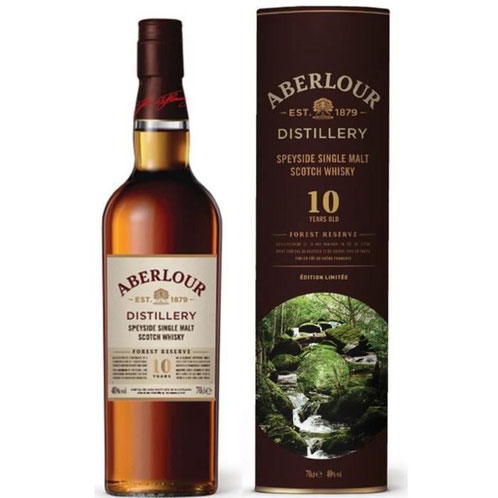 On the nose side, it is quite suitable for at least connoisseurs because it will prove to be a simple approach. The first passage will detect immediately sweet notes of orchard fruits (pear). The second will be more "forest" with a dry woody touch. Finally, the third passage will reveal beautiful aromas of vanilla.
In mouth its 40° does not attack. It is very affordable (perhaps that's why it is one of the most sold whiskies), with notes of citrus fruits, vanilla and even a hint of spices. Compared to the old version, it may be slightly bitterer.
The finish is pleasant on fruity notes but it fades away quite quickly.
In fact, with regard to the dishes that are proposed to us, it goes well with the tuna, which has a slightly sweet character. The tataki will bring out a little more the spicy touch. On the other hand, on the spread it will leave a very nice impression. Paradoxically if the terrine does not bring much, the shortbread on the other hand clearly enhances it with beautiful notes of cinnamon and vanilla. The harmony is almost perfect and almost makes you forget that you drink a whisky while eating !
The waiter comes back to our table and brings us the appetizer. It will stay on the fish but goes from red to orange: salmon.      
In the plate we have pieces of smoked salmon, a pavé of raw salmon and a verrine with pieces of salmon mixed with avocado; in parallel there are three plots of lemon cream and blinis.
Concerning the whisky accompaniment, it will go up a little in range (and especially in age) since from now on it is an ABERLOUR 12 year old NON CHILL FILTERED that we are served.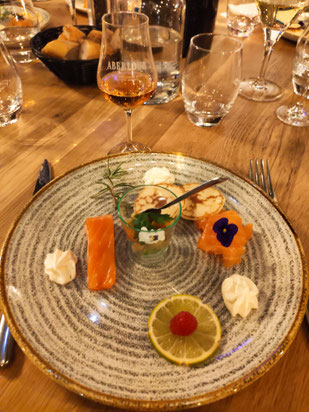 The liquid that is now in our glass will paradoxically turn out to be slightly clearer than the previous one. It is nevertheless adorned with beautiful gold reflections, but which will draw more towards the orange while its time in the sherry is longer than the previous one (2 years longer). Here again, the 12 year old version has been reviewed by the brand with an unfiltered bottling (which was not the case in the previous version). In addition, the "green" side of the Charleston of Aberlour distillery will appear on its recycled cardboard tube.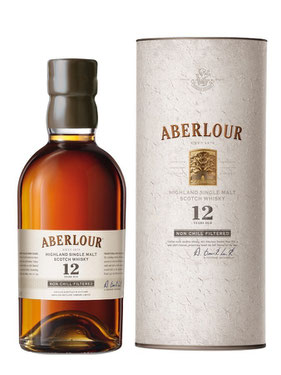 If the two years do not know each other in terms of color, it is not the same in terms of smell. When the nose settles in the glass, it will discover a whisky well fleshy and sweet. One could have thought that it would be fresher to accompany a salmon, we will see. The nose will clearly detect the aromas coming from the sherry barrel (smoothness, ripe fruits). In addition, the slightly stronger degree will warm the lashes. At the second passage paradoxically it will refresh and go on a spicier smell. Finally, the last passage will detect the sweetness of honey and caramel.
In the mouth, without food, it speaks to us a little more than its predecessor. It has much more taste. At first it will be tense with the spices, but then it will round off by staying in the mouth and become mellow. We detect fleshy notes of orange and red fruits. At the end, to whistle the end of the tasting, it will adorn itself again with fresher, more natural notes.
When it has gone down it leaves fruity but also slightly lemony notes in the throat.
Indeed it will marry well with the salmon of our dish. I might have a slight preference for the pavé which will not mask too much the red fruits of my whisky (whereas the smoked salmon would tend to mask it). A good surprise is created when you add the lemon cream to the salmon. There the aromas are exacerbated and the whisky develops clearly in the mouth.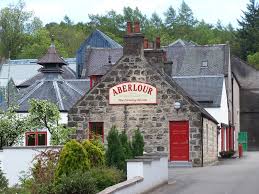 After these two beautiful starters, we will move on to the main course. In any good Scottish in kilt which is due, our waiter comes back to us and does not propose us a Scottish Haggis but a beautiful veal tagine with dried apricots. We are thus going to be on a salty sweet.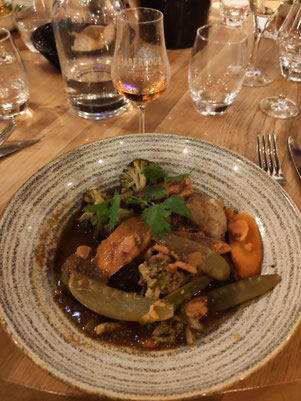 To pair it, he will continue on the ABERLOUR distillery with a CASG ANNAHM (a rare cask in Gaelic!). This whisky, produced in small batches, will allow to measure the work of the master blender of the distillery. Indeed, it is bottled after passing through two American oak casks and 1 cask of Oloroso sherry. In fact we will propose here a whisky less marked on red fruits for a clearly sweeter dish (in the other proposals of agreement the whisky came more to draw the tastes of the dish than the opposite).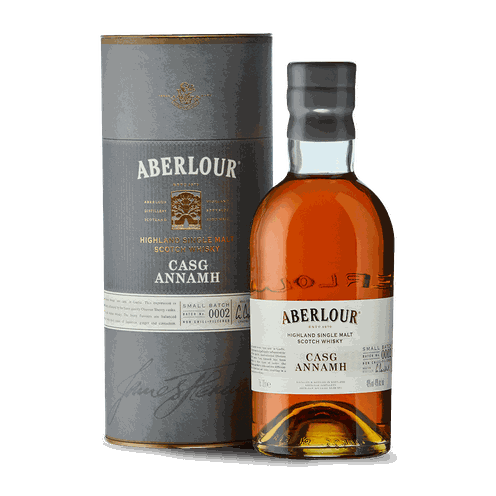 When is the drink first? Its amber color does not reflect the aging process (mostly in American oak barrels, remember).
Its nose will be much more focused on citrus fruits than the first two ABERLOURs tasted. This acidity is amplified by its alcohol content (48%).  At the second passage, it will nevertheless become rounder and pass over a "warmer" smell of red fruits. The last dive of the nose will finally detect some spices.
In the mouth, without any food, it turns out to be sweeter than what one would expect. It will bring out a taste of caramelized apple in which cloves have been planted. Sugar and spices? I thus understand why the restaurant is more turned towards a tajine (this said a haggis would have done the trick!).
Once swallowed, it will remain in the throat for a long time, lining it with pastry notes (butter, sugar, cinnamon).
Concerning its accompaniment of the proposed dish, it agrees but is not imposing. The tagine is a little too sweet for my taste and the whisky will just bring a touch of acidity to the dish.
While the tongues are loosening (this is the magic of whisky among whisky lovers) and everyone is sharing their feelings about the dishes and the socio-cultural situation of the moment, the waiter (in kilt I remind you) comes back to us with a bottle of ....TORMORE! No ABERLOUR ? 
Our host tells us that the explanation is simple: the evening is not organized by ABERLOUR, but by the PERNOD-RICARD empire (re-cocorico!). Empire notably constitute 6 of the 15 biggest whisky sales in the world! Afterwards, we are only talking about big money, which, if it facilitates the development of the producing companies, does not take away the work on the distillates.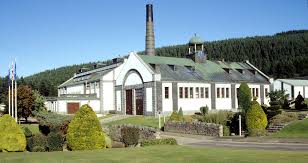 This is the case of TORMORE (Torra Mhòir "big hill" in Gaelic) produced by a distillery located in the mountains of speyside at just ¼ hour of ABERLOUR time, known for producing fruity and delicate distillates. Distillates limited because only 2 (14 and 16 years old).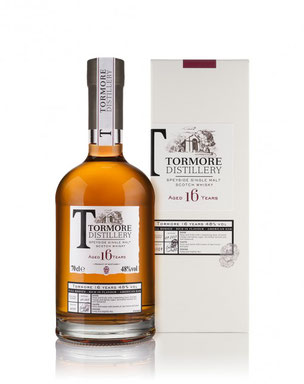 What about the one proposed tonight: 16-YEAR-OLD TORMORE?
The liquid in our glass has a beautiful coppery gold color produced by maturing in American oak barrels.
Its smell is nice but not exceptional. Fleshy because of its alcohol content (48%) it gives us a glimpse of beautiful fruity and malty aromas. One can detect smells of apricot and ripe fruit. At the second passage the fruits give way to vanilla. This whisky, quite linear on the nose, remains nevertheless the image of what one expects from a whisky!
It is in the mouth that it is discovered a little more because it is warm but nevertheless soft. If we keep it the 16 seconds recommended, we will spend a beautiful moment of plenitude with a certain fruity sweetness. Its journey ends with a more bitter and spicy note. It is moreover this spicy note that will remain long enough in the mouth bringing freshness to this tasting.
It is at this moment that our man in a kilt makes his appearance with a plate of cheeses: on the program of the Emmental but especially goat cheese, blue cheese, and camembert all three well matured and announcing a moment of taste!  Discussing with my table neighbors, we wondered how to associate this TORMORA with the plate : so much fullness in front of so much taste ! Not sure that it all fits together.
Suddenly, my neighbor Tormund stands up and says aloud "but we forget the northern islands! Where is the SCAPA? »
Here is the solution, to pass over a whisky that has known peat!
It was done when our friend in kilt brings us a big bottle : a SCAPA GLANSA straight from the Orkney Islands in the north of Scotland (a little digression in Speyside anyway !). But clearly what better to accompany cheeses of taste than a maritime whisky with peaty aromas like a stormy sky (GLANSA in Nordic language).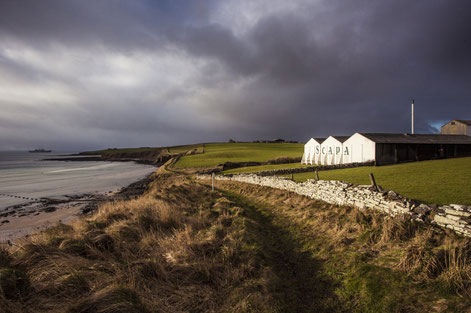 Let there be no mistake with SCAPA with a beautiful golden slightly amber color, we are not on a real peated whisky, but on a whisky that has been aged in a peated cask refill. So a few years in a bourbon cask and then passing through a cask (it is called Laphroaig) to give it a hint of smoke smell.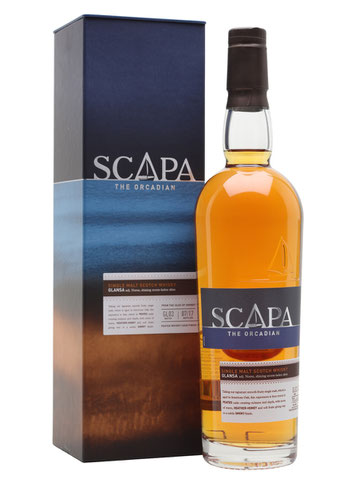 And precisely that peat smell you can smell it?
Well yes, even if the first aromas that enter the nose are rather fruity (with aromas of ripe fruits), a slight smell of smoke shows the tip of his nose. Now in the head (it's often like that with peat, it's hard to get out of your mind -peatdream's words) at the second passage you can only smell it but with a certain freshness. At the third passage we can detect vanilla aromas (from the islands...from the north).
And in the mouth, this whisky is mellow with beautiful notes of ripe pear and vanilla caramel. The smoke is very present but without being too aggressive. This whisky is smooth and surprisingly less maritime than one might think, although it leaves some fresh notes in the mouth once swallowed!
And it is precisely these notes that will go well with the cheese you have on your plate. If the Emmental does not bring a great interest (except with the small jam which awaits it just beside) with the 3 others it will come to soften the deal on the goat and the blue and accompany perfectly the Camembert.
Thank you Tormund !
In my opinion, the best thing now is the dessert and above all what goes with it.
Our friend in kilt brings us a new but last plate with an apple crumble but above all pours into our glasses, the beautiful almost red liquid of an ABERLOUR A'BUNADH.
For those who have been following my adventures for some time, they know my penchant for this little distillate (see here)!
As usual it does not differ from the batch! When our waiter leaves I realize that I did not have time to see which batch it was.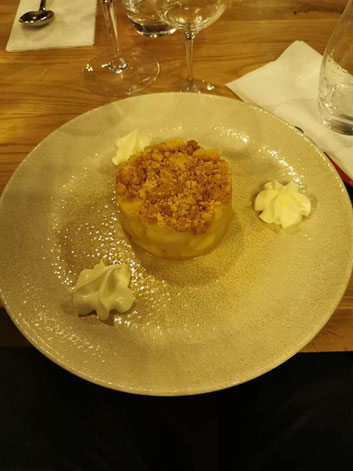 When we talk about an ABERLOUR A'BUNADH we don't talk about just anything! A real sherry bombs according to the rules of the art (it is not for nothing if its name means "at the origin". A real whisky bottled without fuss (often around 60% enough to knock your teeth out) and composed solely of distillate aged between 8 and 15 years in Sherry Oloroso casks.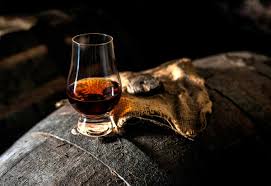 On the nose, it immediately attacks the eyelashes. Not to start with, you're with a 60% (without any sexism, to quote Audiard, I would say that you have to admit that it's more of a man's drink). Nevertheless, while your head is spinning, your nose will detect the heat of a cocoa bean just roasted. Afterwards, if you are brave enough at the second passage, you will detect red fruits and magnificent citrus fruits. At the end of a third passage the nose will be pricked by spices and a hint of cinnamon.
Attention will be necessary to taste it! Hang on to the table! It enters in mouth with a fanfare, jostling everything on the way. Strength, spices, ginger ... By keeping it in the mouth (if possible) the spices will dissipate to give way to beautiful notes of red fruit and before swallowing it will end up drying your mouth (perhaps due to a certain astringency related to aging sherry), with only one desire ... go back to it.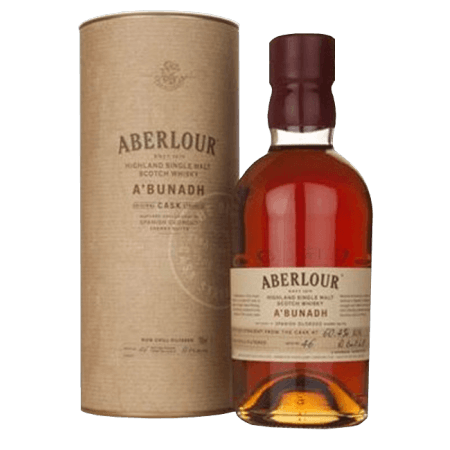 Also, once tasted our crumble seems somewhat bland (even if it is very good). I don't really know if you can associate anything with an ABERLOUR A'BUNADH (except dark chocolate 85% or candied ginger), so I decide to enjoy my crumble without whisky (to respect the pastry chef) and keep my whisky for the very end of the meal where it seems to me it has its full place.
What a beautiful evening, but unfortunately I will have to leave (there is still a curfew).
I would like to thank Fabien and the whole team of the VIGNERY CERGY (@lavignerycergy) who concocted this meal for us. Of course, I won't hesitate to come back to the depths of this beautiful forest of Vexin at the O'BROTHER (a pseudonym since it is called AGORA - @l'agoracergy-).