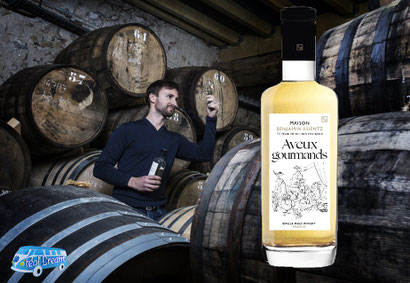 In the line of the last tasting to date which compared a Breton whisky and an Alsatian whisky, I propose to you today to stay in France to taste one of the productions (or editions in our case) of a Parisian passionate about terroir, I named Benjamin KUENTZ.
We have already had the opportunity to taste one of the productions of this sorcerer (or dowser, as he digs so much in search of tastes) of modern times: "AUX PARTICULES VINES #2" (where he refined the taste of a whisky with a touch of Bourgogne). 
I'm going to let my BRAD PEAT van breathe, tired of all these virtual and temporal trips across countries and I'm only going to ask it to take me up the most beautiful Avenue in the world! Already that there is a touch of chauvinism in my French whisky tastings, I'm going to take advantage of being right next to the PEATDREAM house and going up the Champs Elysées without any traffic (due to the confinement).
I arrive at the Charles De gaulle roundabout under the triumphal arch like a head of state, I allow myself to walk around it like a prince and I take a right on the Avenue de Friedland. My destination is not far rue de Chateaubriand: the offices of the MAISON BENJAMIN KUENTZ.
Arrived in front of the building, no chimney with a pagoda roof (note that in Paris that would have been original) but I am in the right place. And yes the house is not a distillery but it is a whisky publisher.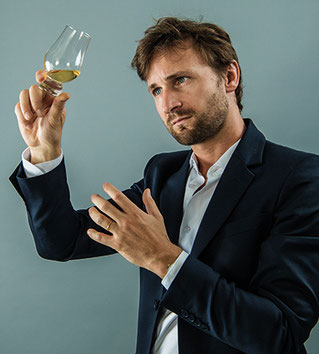 As we saw during our visit to CHISWICK STUDIOS at COMPASS BOX in London, the laboratory office of a whisky publisher has all the makings of a chemist's laboratory. Barrels and bags of barley are replaced by ten samples and test tubes. It is said that Benjamin Kuentz is a bit like the French John Glaser.
So here I am in the alchemist's lair. The opportunity for me to retrace his career since 2016, the year when he decided to embark on the whisky adventure.
Basically a not so crazy idea for a whisky lover... to make his own. So to learn the craft, he launched into a tour of France of distillers. Nevertheless, he realizes the diversity of French aromas and thinks that it will be difficult to produce something else different (especially in Paris). He also thought that it might be easier (and above all quicker -NDLR-) to ally himself with the barons of the trade with the production that was already well tried out.
Moreover, these partnerships should enable it to quickly satisfy its appetite for taste creations and to offer a wide range of products. 4 years later, I'm not sure he could offer so many references if he had produced his own whisky.
Listen to a little: The peppery and woody "FIN DE PARTIE", the fresh "(D'UN) VERRE PRINTANIER", the 4 wine versions of "AUX PARTICULES VINES" (of which we tasted the second version here), the maritime "LE GUIP" and the even more marine future "UISCE DE PROFUNDIS" (aged under in the sea), and therefore the "AVEUX GOURMANDS" that we will taste today.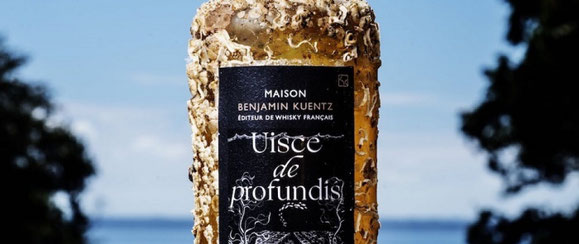 And so to be sure to obtain quality distillates, Benjamin will ally himself with two of the oldest French briscards, I named the Lorraine ROZELIEURES and the Breton WARENGHEM. He will share with them experiences, recipes and ageing. 
Today, the one we are interested in will come rather from the west coast. The WARENGHEM distillate, therefore, first spent some time in Bourbon and then Benjamin had it aged for a year in a Sauternes 1er grand cru cask from Château Rayne Vigneau to give it density and warmth. 
Who says greedy confession says greedy! So, I am going to propose you a whisky agreement for the tasting. I take out of my bag a beautiful caramel lightning bolt with salted butter-speculos (you must always carry a speculos lightning bolt with you!). By the way, a piece of advice: go and have a look at the BENJAMEMIN KUENTZ website, there are many nice matches to discover.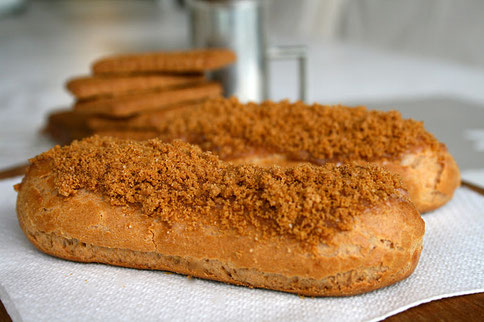 So what about this GOURMAN FRIENDLY FATHER?
I would like to warn you right away that you should not rely on its beautiful light gold colour, which could lead you to think of a freshness and not a big heat!
Because indeed, this whisky will go crescendo in your nose. When you dip it in the glass, it is at first quite soft and sweet with a nice smell of candied fruits. Insist on your first passage and it will warm up. Your nose will discover powerful notes of pepper. Ok I'm going to let you breathe a little.
When you return the heat is still there and a beautiful smell of ripe pear appears. It is accompanied by the smell of pineapple. At the third passage the smell will be more on a roasted hazelnut and on a salted butter caramel (which will lead us directly to my lightning !!).
In the hand the distillate is entirely dedicated to the barley from which it was made.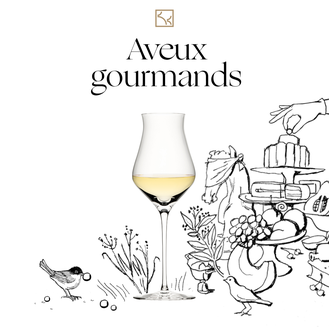 Before biting into your lightning bolt I suggest you taste the raw distillate!
Its taste is, as expected, very fruity. Remaining on the fruit, it will nevertheless reveal some salty notes (surely linked to its Breton origin) but also the hazelnut announced on the nose. By keeping it in the mouth, it will pepper the tongue and the palate, then soften and come back on the pear. It becomes warmer when it is kept in the mouth. It is at this moment that we will discover the impact of the Sauternes barrel. It will complete its warmth with a recognizable hint of harshness but also beautiful notes of honey which announces the end of the tasting. However, as if out of nowhere, as if to escape just before going down the gorge, a grapefruit rush appears.
The finish is correct and leaves in the mouth a vanilla bean but also the slight harshness of the wine barrel.
This is where my lightning bolt (no genius) but speculos will slip in. Take a mouthful that will cover your mouth with caramel, then once swallowed, a sip of your "AVEUX GOURMANDS". It will be an explosion of heat without harshness, as if there had been some Sauternes left in the barrel and that it had come to round off the whole. Do it again until you are no longer thirsty ! At worst if you are thirsty, don't finish your lightning. In any case the two come to marry ideally.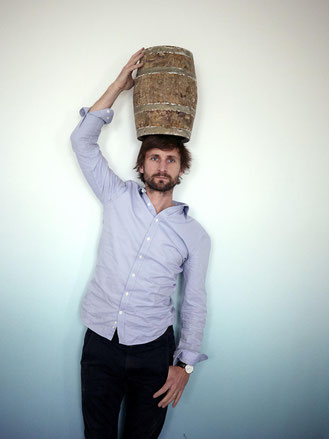 Well, I know I'm chauvinistic, but still, as I always say, we may not have invented whisky in France (and I won't dwell on this thorny subject) but we have some great achievements, and the whisky publisher BENJAMIN KUENTZ is involved in them and is starting in a good way.
Well now that the traffic is going to return to the Champs-Elysees, I will perhaps set off again on board my BRADPEAT towards other Fields perhaps a little more peaty.