This time my virtual journey is not only going to be geographical, but also temporal (no Zeus!). That's the advantage of the virtual, it still leaves a lot of room for imagination!
So I go up in my BRADPEAT and I set 1865 on its temporal convector. I look for a long straight line (I don't have a turbo) and I accelerate to try to reach the 88 mph required!  I swear it's possible with a combi! Just as I reach the necessary speed a huge flash of light invades the passenger compartment and knocks the Glencairn off the armrest. Time to check if it's not broken and here I am in Scotland in the second half of the 19th century. I arrived as planned in the south west of Scotland in the Ayrshire region in the (then small) town of KILMARNOCK. I am in the right place at the right time!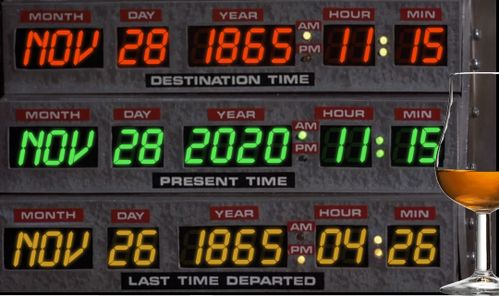 To avoid attracting attention, I hide my van behind a large poster showing a man in a top hat and a red frock coat walking!??
In short, after an hour's walk, I arrive in the centre of the village. I'm looking for a grocery shop specializing in spirits called "John Walker". I would like to taste one of their current production, BLENDER'S BATCH "SWEET PEAT".
Ok you're going to say that there may be a little mix of eras but isn't that also time travel! See Marty Mac Fly (probably a Scotsman by the way !!) predicted the Chicago Cubs win 50 years before then.... but don't worry I brought the bottle with me.
Anyway, this is for me the occasion to celebrate the 200 years of the great brand JOHNNIE WALKER with a trendy peated whisky (hey my name is PEAT DREAM anyway !).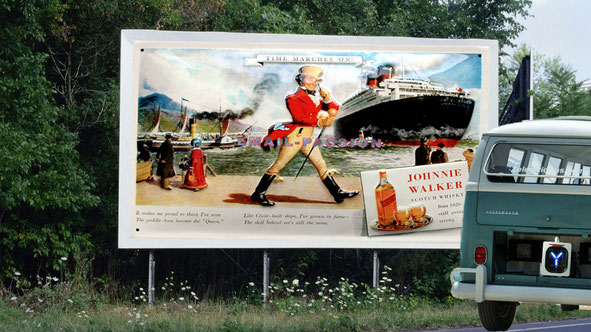 So let's get back to our horses: a little history lesson for the tasting evenings.
Why this town?  Well simply because it is here in the famous shop where I have to go that the myth of John (deny) Walker was born in 1820 (and yes 200 years ago). In the beginning the shop was called "Walker's Kilmarnock Whisky" and it didn't just make whisky (barely 10% of sales). However, at the checkout there was a certain JOHN WALKER. In short, the shop grew and it was passed on to his son, ALEXANDER WALKER, who continued the adventure by further developing the whisky sales. It was then passed on to the second ALEXANDER of the family (the son) who further developed the brand and whisky sales, which now accounted for almost all sales. 
At the time there was already a "Walker's Kilmarnock" which was a great success (I don't know, I haven't tasted it). However, at that time a turning point in the brand came about: ALEXANDER II (the grandson of the creator and son of ALEXENDER, so - you follow?) thought: "I've had enough of single malt singles (oh the other one!) and I'm going to mix them too! Problem we are in 1860 and it is forbidden to make Blend !
When we see the current world whisky market we wonder how it's possible ! In short, he is stubborn the bugger and braves the ban by creating in 1865 what will be one of the first blended malt : Walker's Old Highland. It's funny 1865, that's exactly the date I had put in the temporal convector ! This chance !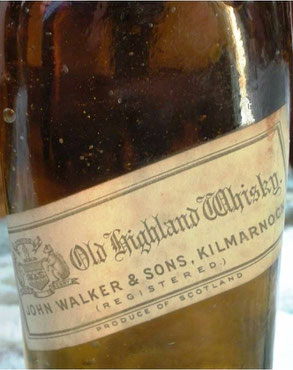 If I want to continue the story a little (because I remind you that I come from the 21st century and I know it, but I won't tell it to ALEXANDER II if I meet him) by summarising it quickly. I'm not going to list the companies that have made it one of Diageo's (quality) cash cows, but I'm going to say that the brand has changed ownership quite a bit since it was created.
But let's note that in 1870 ALEXANDER II created a square bottle (what an idea!).
Moreover, at the beginning of the 20th century, after having developed many of the bottle colours that we now know, the name of this whisky changed: "WALKER'S KILMARNOCK WHISKIES" became "JOHNNIE WALKER WHISKY" and above all a certain man appeared walking with the slogan, "Born 1820 - Still going Strong! "(I know I'm parked under a poster representing him in 1865 but hey, time travel, you know...).
I think I've done the little history lesson I wanted to give you. Let's move on to my temporal adventure.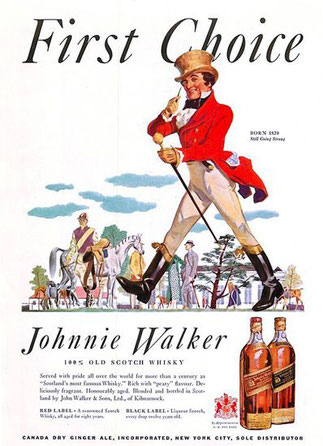 So I arrive in the centre of the village and I have no trouble finding the shop! It's marked on the front ! As I enter, I find myself in a grocery shop half shop, half laboratory. At the checkout I see a man in a suit, with white hair and big eyebrows ! (he looks like me !). ALEXANDER WALKER II in person.
I talk to him about his blends, but he tells me to shut up and goes to the door to lock it!
I forgot that it's still forbidden. He then asks me how I know it ! I can't tell him everything but I embroider a little story with no head or tail (you know me). In short, after having discussed with him about his knowledge on the subject, I take out the bottle that I brought and that I want to taste today!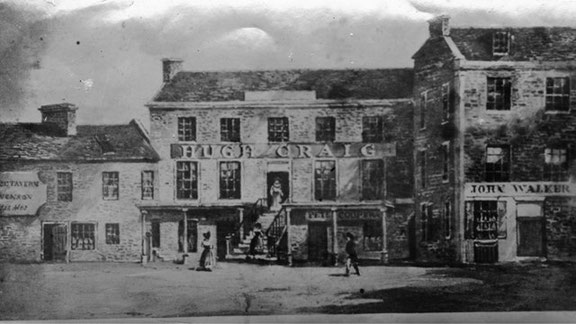 I confess that he put on his glasses and was truly astonished! A peated blend? But how can you have anything else, all whiskies are peated, he said! Oops I had forgotten that it was 1865 (and that only peat was used at the time to stop germination!). Looking at the composition a new astonishment invades him : The blend I propose to him is composed of 3 malts from two different places:
- First of all CAOL ILA which is the majority : I explain to my host that it's for the peat and he laughs while telling me, but why ride 3 days on horseback and take the boat to get a peated whisky from a small distillery ? There are peaty malts everywhere ! I explain to him that it's for its sweetness and for its marine character ! Let's admit it !
- Then I tell him about CARDHU for its fruity character. He then tells me but how do they dry their barley ?? I evade and go to the third
- finally GLENDULLAN for the strong fruity notes brought by the sherry barrels! And here's the problem. If CAOL ILA was created in 1846 and CARDHU in 1824, it is not the same for GLENDULLAN which has not yet been created in Dufftown in the Speyside (err forgetting the Highlands at the time): it opened in 1897. ALEXANDER II looks in his register and says no, I don't know this one: I'll write it down, it must be a new one! phew!!
And so you think, if I had told him that from now on these 3 distilleries (and many others) are part of a world industrial empire of which he is certainly one of the founding fathers, I don't know what his reaction would have been !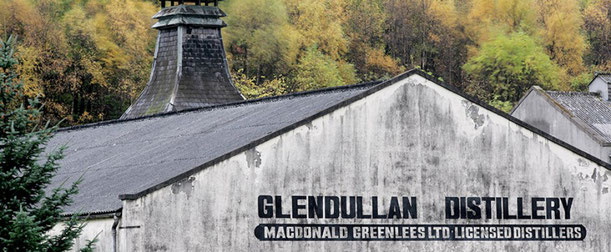 Then he said to me in sherry barrels? At the price where they are, it's madness !
But another problem makes my host tick. On the bottle two names: GEORGE HARPER and JIM BEVERIDGE, masters blenders ! He tells me that he alone created the blends and that there must be a mistake. Indeed, I hadn't thought about that either. The two men in question and their team of master blenders of JOHNNIE WALKER 21st version (10 in all) were far from being designed in 1865.
Nevertheless, they are the two who are at the origin of this JOHNNIE WALKER BLENDER'S BATCH range and who took part in numerous experiments in mixing and finishing and above all they created the SWEET PEAT that we are going to taste!
In short, here I am tasting a 21st century whisky with a 19th century man! And yet I hadn't drunk anything yet!
What about it?
Already the filled glass awakens the spirit of my host: its amber-brown colour is not very usual at that time.
This blend is nothing but softness. So much so that my host, who is used to more fleshy whiskies, says to me: "there's alcohol in this? That's what we give to children! ».
Indeed although it has an alcohol content of 40.8%, this whisky is really sweet.
Even before you plunge your nose straight into the glass, it smells like caramelised syrup. However, when you plunge the nose straight into the glass, you can recognize the beautiful, recognizable sherry-ageing scent. Ripe grapes and red fruits. Alongside these vinous scents one can detect a hint of spices resembling that of a clove.
At the second passage the whole thing becomes rounder and it is now the sweetness of a slightly caramelised apple that arrives.
At the third passage the smell becomes stronger and closer to that of citrus fruits. However, you really have to stay in the glass so that the nose can detect the peaty smell of the CAOL ILA that was used as a base.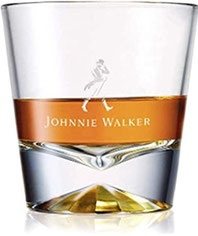 slainte mhath !
The announced sweetness is found in the mouth, but there is also a touch of tension with the arrival of apple and spice flavours and the slight harshness of the sherry barrel. The peatiness announced is present but light and in the background throughout the tasting. Keeping it in the mouth, it will first go through fruity notes on the tongue but more salty and spicy on the palate. In the end, the whole thing blends together to become rounder and create what one could feel like the texture (not the taste, I reassure you) of a big marshmallow lurking in every nook and cranny of the mouth.
Once swallowed, the finish is medium long and leaves an effervescence of smoke and red fruits.
The empty glass is a chocolate delight!
I find this Blend, which resembles a single malt, is a very good compromise between the marine character of the GREEN LABEL and the sweetness of the PLATINIUM LABEL. Too bad it's not a range in its own right!
My host tells me that this whisky is very interesting and could be part of a range! But he will have to go a little further north in Scotland to see this famous GLENDULLAN distillery! Ouch!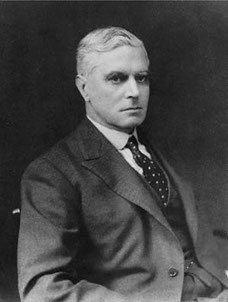 Then followed the tasting of Walker's Old Highland (the first blend of the first blends) which took me to the whisky firmament but it's a story I'll keep to myself.
I'm going to duck as long as I didn't make too much mess at that time. I'm going to go back to my temporal BRADPEAT and go back to the 21st century to celebrate 200 years of the brand to the man who still walks.