DISTILLERIE BERCLOUX - WHISKY DE MALT
MAISON BACHE-GABRIELSEN - WHISKY DE FRANCE
MAISON DAUCOURT - BASTILLE 1789 SINGLE MALT
I am continuing my journey towards the south of France and am about to enter what will certainly become one of the favourite regions for French whisky.
We have long been used to hearing "ah French whisky is in Brittany and Alsace" (without wanting to create jealousy) but it is of course "they say", as we know very well that there are distilleries all over the territory (see below the map of the French Whisky Federation).
But the fact is that there are more and more distilleries in France, blenders, distributors...and above all, enthusiasts. The fact is, too, that a certain French region is tending to become a major player in the sector.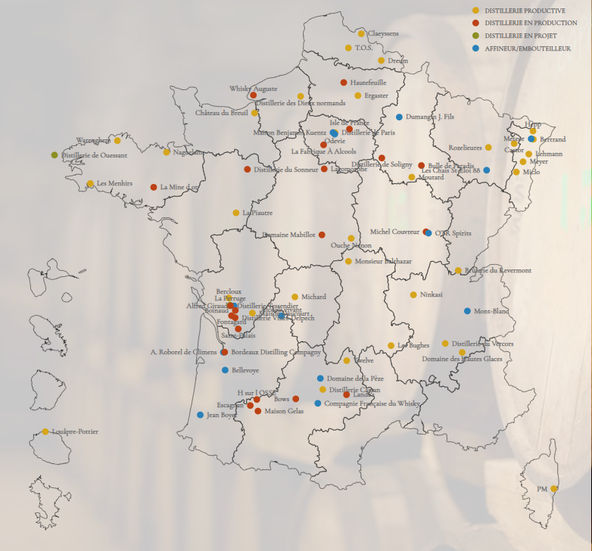 Carte produite par la Fédération du Whisky de France. Plus de détails sur en cliquant sur la carte ou ici 
So, here I am on board my faithful BRAD PEAT on the west coast of France in Nouvelle Aquitaine! With all the whisky producers it contains, entering this region is a bit like entering Speyside when you are in Scotland (ok with a different climate and relief).
After having reviewed the whiskies of this region, we will taste the achievements of three representatives: WHISKY DE MALT by the BERCLOUX Distillery, WHISKY DE FRANCE by the MAISON BACHE- GABRIELSEN and BASTILLE 1789 SINGLE MALT by the MAISON DAUCOURT.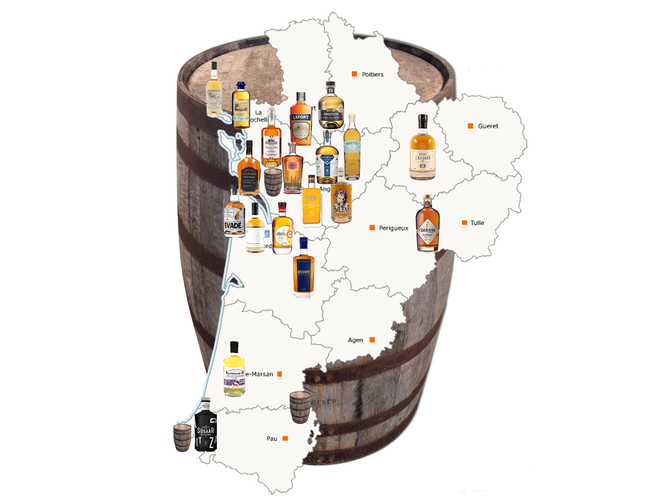 So the NOUVELLE AQUITAINE, we have known for ages about wine and cognac, but whisky! The figures speak for themselves: hoping not to forget, there are already more than 20 types of whisky (all distillers or distributors combined) and no less than ten distilleries waiting to age or in gestation. In fact, we can almost estimate that 1/3 of the French whiskies now come from this region.
There are distilleries created entirely to produce whisky (MAISON DAUCOURT, MOON HARBOUR, SUGAAR...), cognac distilleries which use their Charentais stills (we are not making this up) to switch from distilling grapes to distilling cereals (ALFRED GIRAUD, MAISON BRUNET, BOINAUD, MERLET & FILS, GODET...), brewers widening their offer by producing whisky (BERCLOUX, MICHARD, ALKERBELTZ...). There are also distillers like SVE.
At the same time, there are blenders-sources (BELLEVOYE, ROBOREL DE CLIMENS, JEAN BOYER, AMAETHON,...), some coming from COGNAC (BACHE GABRIELSEN...) but also refiners of various French distillates (LEFORT) or Scottish (LE PERTUS, DELOYRE...).
Finally, there are distilleries or producers who are boiling (no pun intended) while waiting for their distillates to reach 3 years of age (LA PERUGE, DISTILLERIE TESSENDIER & FILS, BOINAUD, BORDEAUX DISTILLING COMPANY, FONTAGARD, DISTILLERIE VINET DELPECH, ROUNAGLE,...).
So much to say that there is enough to do and to satisfy all the desires and tastes of the amateurs. So it is not easy to propose a tasting in all this beautiful world (knowing that a certain number have already passed through PEATDREAM - cf at the beginning of this text).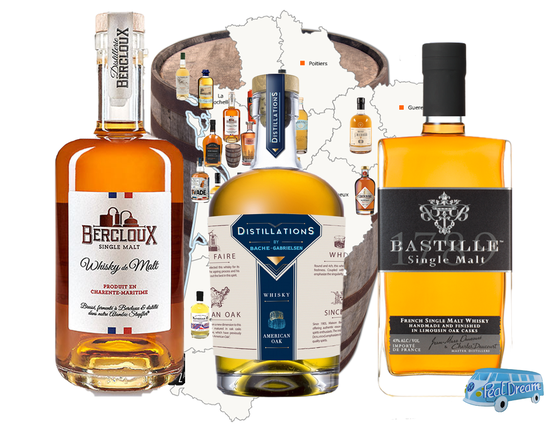 ---
My journey will stop today in Charente, firstly at a whisky brewer-distiller (DISTILLESRIE BRASSERIE DE BERCLOUX), then at a cognac house which is developing its whisky business (BACHE GABRIELSEN) and finally in Angoulême at a whisky house (MAISON DAUCOURT)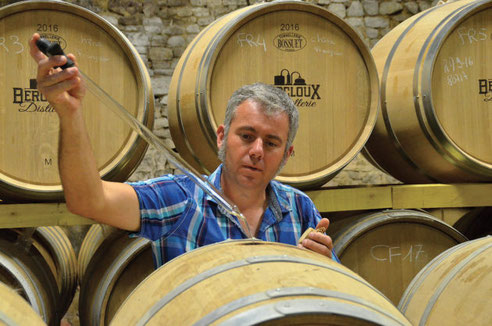 My journey takes me first of all a few kilometres north of SAINTE to a village called BERCLOUX (surprising!). This is where we meet Philippe Laclie.
He is the one who created the town's brewery in 2000: La Bercloise. But he tells us that he didn't stay long as a brewer in this world of Charentais spirits in full mutation. He also tells us that two years after opening his brewery, he launched himself into the spirits business by buying an endemic (Charentais) still and producing gins and other fruity liqueurs for about ten years.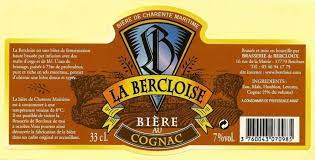 In 2014, after acquiring fermenting tanks, he moved up a gear and bought a Stupfler (column still which, as its name suggests, is made in ....Bègles).  Two years later, he is proud to release two distillates: Spirit Drink Single Malt Peated and Single Malt ACF 5. The whisky adventure is launched.
As he is doing a good job, he is starting to be well liked in the industry and to make the eye of the "investors". So, since 2019, while remaining at the helm of the ship, he has become part of the LES BIENHEUREUX group (you know BELLEVOYE, the whisky from the Elysée Palace, whose White and Green I gave you a taste of a while ago!).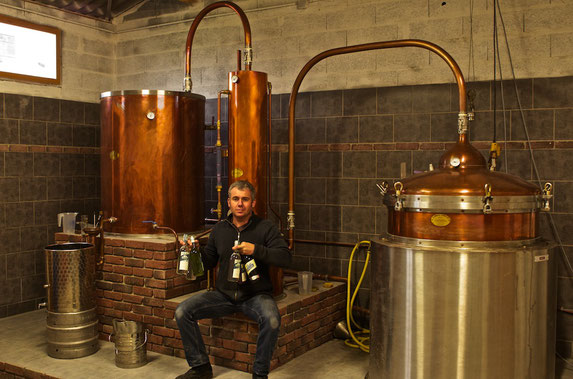 In short, a great adventure that gave birth in 2018 to beautiful things like the WHISKY SINGLE MALT SMALL BATCH that I'm going to let you discover just below.
So here is the distillery, which something tells me won't stay there for long, produces two distillates: a peated one (which I couldn't taste, sorry) and a non-peated whisky aged in Pineau des Charentes casks.
Before dipping my nose into it, Philippe introduces me to the beast: Distilled from a barley coming from Belgium (Malterie du Château that I reassure you can be found in many French distillates) and was then put in barrels from the region (Tonnelleries Navarre and Doreau located in Cognac) for 2 years before passing in part in "red" barrels (having lived through several cognac ages) and in Pineau des Charentes barrels.
It is clearly from this ageing that it gets its beautiful amber colour.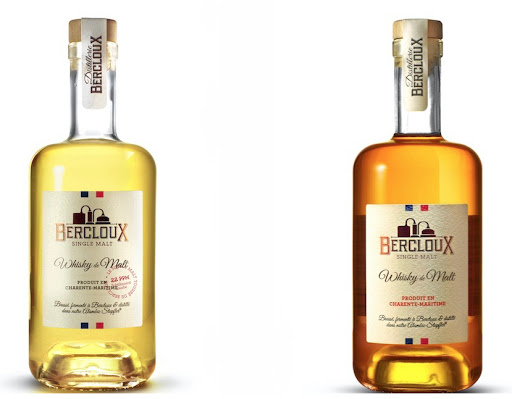 But what does it taste like on the nose and in the mouth?
When you approach the glass with your nose, you will detect a certain fruity and sweet sweetness.
However, when you plunge your nose into the glass, you will remember that the bottle mentions 47.8% alcohol. Beautiful woody and spicy aromas attack the mucous membranes. As we stay in the glass the "little fire" calms down and gives way to beautiful notes of caramelised apples.
The second pass through the nose will detect the youth of the distillate with quite frank phenolic notes, but also the smell of barley with sweet caramel in the background.
The third pass will be camphorated but will let out notes of vanilla.
A little more ageing should calm it all down.
When you put a drop of the distillate in your hand you can clearly see the malted barley that was used to distil it. 
On the palate it will paradoxically be sweet at first, in line with its nose (and especially its alcohol content). But beware, because a nice woody strength soon arrives. Later on, a hint of bitterness appears, to which are added peppery notes. A hint of smoke can then be detected, which softens the peppery notes of the youth, leaving room for sweetness again, as if to complete the circle.
Once swallowed the finish is very correct and will be on ginger and vanilla almonds.
The empty glass keeps the strength of the distillate and brings out the barley and then notes of marmalade.
A nice and promising discovery that will deserve to age a bit to be even better.
---

 Taking leave of Philippe, I get back into BRAD PEAT and I continue to drive ½ hour away, towards Cognac. And as everyone knows, in Cognac they make...whisky!
We are going to discover a totally different approach in the most Norwegian of cognac houses: BACHE GABRIELSEN! I say a different approach because here we are halfway between a cognac house that starts making whisky and a whisky maker (since the so-called whisky is not made here). But I'll come back to that.
In this house which is now more than a hundred years old (it was created in 1905 by the Norwegian Thomas BACHE GABRIELSEN with the purchase of the Cognac house A. Edmond Dupuy), I do not meet Hervé Bache Gabrielsen (descendant of the creator and current manager) but Olivier JADEAU who is in charge of selling the cognac to the export market (not easy at the moment I think, but well, Trump has left so...).
After giving me the 100 years of history, he tells me about the recent experiences of the house. First of all, aging Cognac in oak barrels from the Limousin region and then a few months in new oak barrels from Tennessee and giving birth to (what will be a kick in the cognac ant-hill) the BACHE GABRIELSEN AMERICAN AOK COGNAC.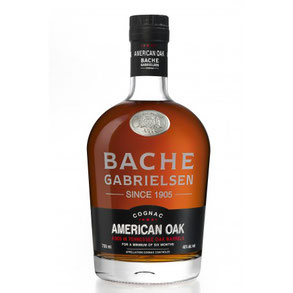 Then to launch into the world of whisky. The problem is that rather than launching into production (which is not the same as distilling grapes), we are going to go for a sure thing and we are going to give it the BACHE GABRIELSEN touch. Everything was in hand, the Tennessee white oak barrel that housed the cognac will continue to work and will now accommodate whiskey: in 2017 the range DISTILLATIONS by Bache-Gabrielsen was born and deserves to be tested.
But before tasting the realization which will be marketed at the end of the year, it is necessary to know that the HOUSE BACHE GABRIELSEN already produces a blend in its range DISTILLATION with the WHISKY AMERICAN OAK. This one has only passed through the Tennessee white oak cask that housed the cognac.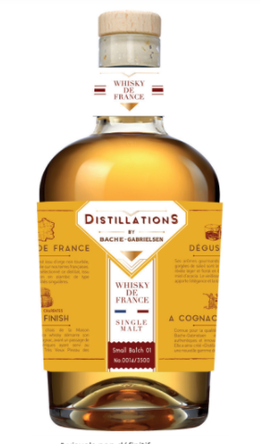 Without making you wait for the end of the year, let's taste this first single malt.
Unlike the BERCLOUX distillate, we will find here a golden color closer to the standards with golden tones but a little darker than with a conventional American oak cask. For this single malt we will have an aging in Cognac casks and then a few months in barrels used for aging a very old Pineau des Charentes of the house.
The nose will detect a much fresher distillate than the previous one with much more marked almond notes.
At the second passage the freshness is confirmed and it is to the barley effluvia to make their appearances and already a smell of peat which seeks only to make its entry.
But the true nature of the distillate will really assert itself at the third passage with now a light but very present peat and a sweet smell of white peach (I still don't understand the people who tell me that peat is not sweet..-NDLR-).
If you have any doubt about the peat, do the palm of your hand to your distillate, you will not have any doubt.
While it was announced fresh, in the mouth this whisky is much sweeter than it let it presume.   With notes of sweet fruit and pastry it is even warm and mellow. It warms up again with the arrival of a touch of spices.
Overall it is dense and mellow in the mouth.
Once swallowed, the finish will be rather long on citrus fruits and notes of smoke and peat. A slight bitterness can be detected but it will not spoil this tasting.
Empty glass on barley and a little peat.
 Taking leave of Olivier, I get back into BRAD PEAT once again and head east towards Angoulême to take the Bastille there!
How could I be more French abroad than to have a whisky called BASTILLE 1789 (maybe make a Bleu Blanc Rouge! ah no, that exists too).
Anyway, here I am in Angoulême in the MAISON DAUCOURT. I met Veronique DAUCOURT-WILKINSON who told me about the adventure of this whisky.
In fact, as we have seen above, we are in a real whisky distillery, but as we are in the cognac region, we will find its genesis in this spirit. Indeed, for a long time, the production was rather based on the distillation of grapes and not of barley.
In 1996, the brothers of my host embarked on the whisky adventure by proposing first of all a blend (BASTILLE 1789 BLEND) made of 50% malted barley and 50% grain. The adventure then continued with a single malt (100% malted barley) called...BASTILLE 1789 SINGLE MALT (!!).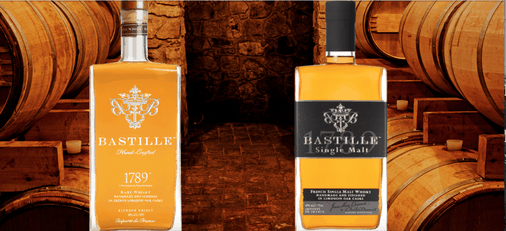 To do this, their beautiful and chic facility in the Angoulême region is equipped with Charentais stills, uses water from a nearby spring and sources its malt from the north of France.
So we are coming full circle on our tour of New Aquitaine with a brand that is DISTILLERIE from COGNAC, which distils itself.
For your information, you should know that it is the MAISON DAUCOURT, already well present on the international scene, which has joined forces with the rapper BOOBA to create D.U.C. whisky (distillate aged in Bourbon, Sauternes and Cognac barrels).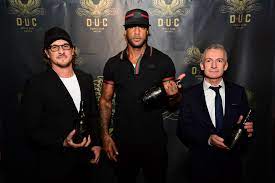 It is the SINGLE MALT (multi-medalist and now distributed in many countries) that we are going to taste today (and yes I am more single malt than blend).
It has an amber colour which comes from a triple ageing in Sauternes, Burgundy wine and Spanish Xeres casks.
From a distance, the nose detects sweetness of fruits (pear and peach mix) and barley and caramel;
The first nose is well marked by sherry aging and spices. Then comes the heat and red fruits.
The second passage still shows a lot of fruit and spice and now a hint of smoke and pepper in my right nostril and some winey notes on the left.
The spices are very present until the end of the olfactory journey with a nice heat of ripe exotic fruits.
In the hand the cold smoke of the peat is better felt.
When it enters the mouth it is with the sweetness of an orange marmalade. But it doesn't last. Immediately the spices arrive on high horses and remain in the mouth throughout the tasting. With them at the beginning a hint of harshness (perhaps related to the wine barrel). The spices are omnipresent with pepper that sticks well to the tongue. After a while the distillate becomes smooth and thick with notes of apple compote.
When swallowed it left the tongue on fire. In the throat one feels a certain harshness and especially a hint of smoke.
I know that these 3 tastings do not make this article exhaustive on what is made in New Aquitaine (I told you above that there are many) but it gives (with the other tastings that I have already made of distillates from this region -cf. above-), a small overview of the aromatic palette of whiskies "made in Atlantic coast".
I took my pilgrim's taste buds and set off again towards the east of France. It seems that it smells like peat near the pink city (but not that one, I'm talking about Montauban!).