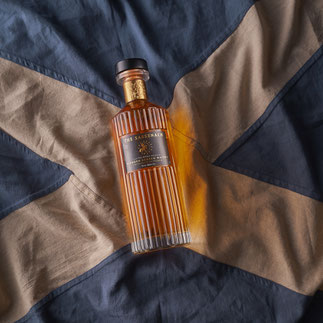 Preamble before moving on to the tasting below: "beware that some elements of this tasting may seem completely ubiquitous, but this is completely intentional! "
That's it, he's finally here!
After many corona-brexiteaine turpitudes, I finally received the double gold medal at the "San Francisco World Spirit Competition" and the "International Spirits Challenge" as the ageless Blended Scotch of the year 2020 ordered more than a month ago. I will finally be able to taste this famous SASSENACH WHISKY from the no less famous Sam Heughan (AKA Jamie Fraser).
To do so, I join my wife (my own Sassenach -NDLR-) and propose her to go and taste it in situ in Scotland on the lands of the series (yes, I forgot to tell you that my wife is a fan of OUTLANDER serie). I know we're a bit confined at the moment, but with my faithful BRAD PEAT, borders are not a problem. So we get into the blue van heading north. Who knows we might meet the shamefully muscular and fire-haired man!  
As this blended Scotch remains somewhat mysterious, I'm going to take advantage of a new device installed in the passenger compartment. Based on a good old GPS and PCR test, I have just invented a location detector. It comes thus to be added to my time convector that I had already used during a previous time drive.
I put a drop of the blend on the test, start BRAD PEAT, and in less than 5 minutes we are both in Scotland. I look at the GPS and see that it has taken us north of Glasgow into Trossach National Park! What are we doing here? I turn to my wife who knows all the places in the series and asks her. She tells me that it is here that in the series Roger and Brianna (Jamie's son-in-law and daughter -ok you must know the series) spent some time when they met! Surprising place! 
Digging a little deeper, I realise that in fact not far from there another name catches my attention and seems much more familiar to me! LOCH LOMOND! I understand a bit better, the blend we are going to taste is in fact distributed by the distillery located south of the Loch! In the end my detector is efficient but maybe still two or three adjustments have to be made because I don't really know if the distillates at the base of this blend came out of the 3 stills of the Alexandria distillery! However, when you know that the distillery has been producing malt whiskies as well as grain whiskies since 1994, you may wonder.
Anyway, no Sam Heughan around. Without too much delay we decide to head further north, in search of the Craigh Na Dun site (it could make a nice tasting site if it exists).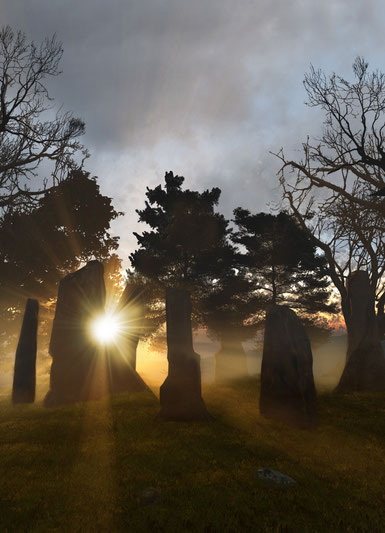 Here we go for a little more than 2 hours of driving through the magnificent landscapes of the Highlands. My BRAD PEAT is enjoying itself and purring proudly as it drives through Scotland.
While studying the case a bit, I saw that we had to go to a nearby hill in the south of Cairngorms National Park. We got there after some research, but my wife's disappointment was great when, on the famous hill there were no stones (only a few traces on the ground)!  Certainly, the places overhanging the loch Rannoch were magnificent but we remained on our hunger.
Also, an idea came to me! We didn't have a stone on hand but we had BRAD PEAT! And since my tasting to celebrate Johnnie Walker's 200th birthday I have equipped it with a time convector and it will be easy for me to make a good one in time!
Remotivated, we decide to continue on our way but southwards towards the great suburbs of Edinburgh, towards Midhope Castle (better known in the series as Lallybroch -NDLR-).
We are now at the end of another two hours of driving in front of the great building that is the main attraction of many of the adventures in the series.
And, it is there that I propose to my wife: "what would you say we use the temporal convector and go 200 years ago to the time of the beautiful Jamie!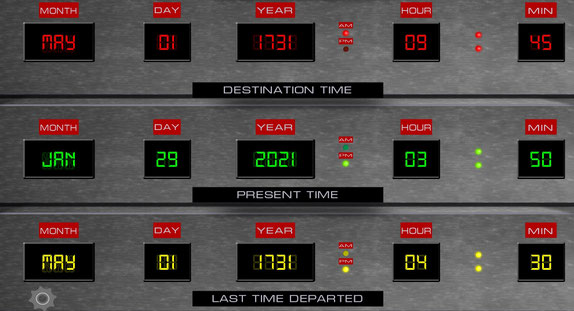 So here I am setting the date of May 1, 1731 (which I had found while doing my research). And here we are on a long straight line like there are in the Highlands trying the regulation 80 mph! A flash of lightning and phew, the road turns into a dirt track! I think we made it! Here we are in front of the big but much newer building, 200 years back!
We parked BRAD PEAT behind a thicket so as not to attract too much attention (I remind you how hard the Claire from the film had had to hide her origins -NDLR-) and we drove towards the castle.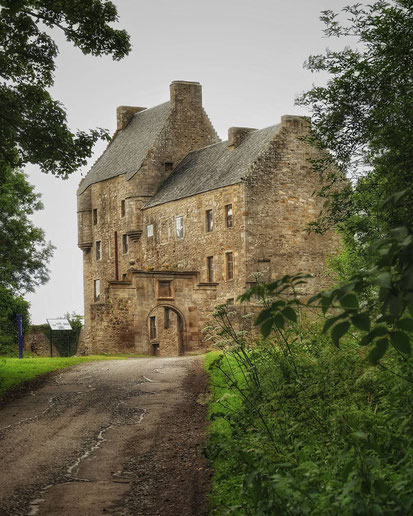 Once past the porch of the entrance, we came across a young man with red hair! He introduced himself: "My name is Jamie, welcome to Lallybroch, it's my birthday today, I'm 10 years old". I look at my wife ready to laugh! I think my research was a bit missed 200 years ago but a bit too soon! I'm sorry!
I hope we will still be able to do our tasting.
Young Jamie introduces us to his father Brian and his mother Helen (Dougal and Colum MacKenzie's sister from the MacKenzie clan in the series, you have to know -NDLR-).
In short, we explain without revealing too much that we are going to offer him to taste a whisky called THE SASSENACH produced by a certain SAM HEUGHAN! I admit that it was not completely easy to explain, especially when we know at the time that Sassenach is a term used in Scotland to designate (and not in the most beautiful way) a foreigner (and especially an Englishman)! "What a curious name" he said to me ! And I'm not talking about Brian's head at the sight of the worked bottle and the very slightly orange gold liquid contained inside (he who at the time was rather used to find whisky in earthenware jugs). "Why did he put the fetish animal of Scotland (the unicorn) on the cork?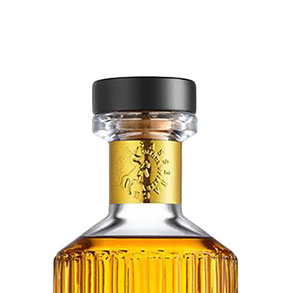 Sitting by the peat fire in the main room, we set about tasting. At first I stopped Brian who wanted to go straight into the tasting without really smelling the whisky!
So I suggested that he dip his nose into the glass.
At first, the smell that emerges is fresh and sweet. It is quite largely fruit driven. The nose will be carried by a sweet smell of orange and apricot.
On the second pass, the smell that emerges from the glass is more woody but still sweet. There is also a slight hint of spice. The third passage remains quite similar but the spices will give way to a vanilla smell.
The 46% vol. is well controlled as it does not jump to the nose.
Still under Brian's doubtful gaze, I put a few drops of the blend in my hand (he must think I'm crazy!). But this experience allows me to discover the sweet aromas of the barley that was used to produce it and also a slight hint of smoke.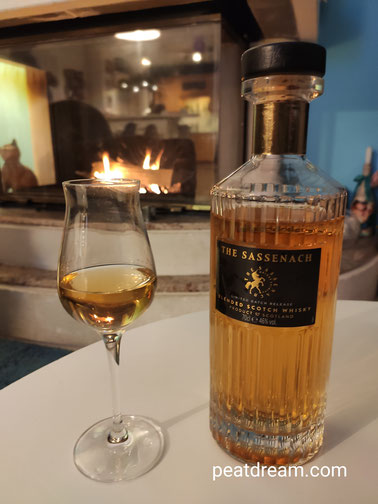 Brian gives us a broad "SLAINTE MHATH" (I think it's running out of rain and want to taste it!).
When it enters the mouth it remains sweet. It has the flavour of a ripe apricot. Then comes a hint of spice but retaining the softness of the apricot. Then the sweet aroma moves on to more pronounced citrus fruits without being too aggressive.
We will then detect a slight harshness (certainly linked to its composition of young distillates) but its very sweet character remains. Note that the acidity of the citrus fruits tingles on the tip of the tongue before softening. The end of the tasting will remain mellow with the sweetness of a mile of orchard and yet a hint of spice on the palate.
The finish, as it descends into the throat, is marked by nuts and a cinnamon stick that brings a certain freshness and lasts for a fairly long time. There is a residual harshness in the mouth after tasting.
Brian looks at me and says: "This is something else than the distillates produced in the village! Where can you find it? "I explain to him that it is difficult to find and that the epidemic and the Brexit are not helping! Then he looks at me suspiciously!  "What is Brexit? Another trick of the British? ". We remained evasive!
But back to our shetland (well whisky).
It turns out to be a very good blend (it has nevertheless been recognized as such in competitions) and is largely focused on sweetness and sweet taste! Maybe that's why it was called THE SASSENACH and not THE RANDALL (well ok you have to have seen the series to understand !-NDLR-).
The fact is that we tasted a good blended scotch whisky but we didn't see Jamie (well Sam ! well yes but...as a child).
We said goodbye to our hosts and left the bottle (I'll manage to find another one) and we returned to BRAD PEAT which fortunately hadn't been discovered to return to the 21st century. Maybe we will have more chance to meet SAM HEUGAN on social networks (@samheugan)!