What better way to enjoy a Scotch whisky than to go...to London!
On the way to Glasgow for new whisky adventures, our plane stops in London. Problem: we are a Princely Wedding weekend and in Heathrow the least we can say is that it's a bit of a tarmac fair with planes coming and going. As a result, our plane remains frozen and we miss the connection. We are stuck in the English capital for 24 hours. It could have been worse!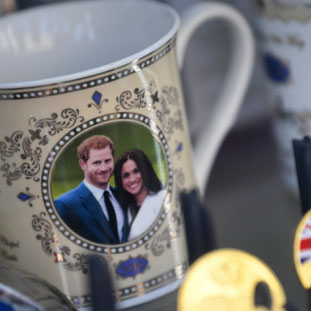 In search of a way to get to the centre, we came across a man in a kilt! It is when we get closer to him that we recognize him: Chris M (for anonymity), whom we used to call "My Lord" at whisky shows in Paris. As a general rule, the following sentence was: "Hello My Lord, would it be possible to taste the whole range" (when we were at the Compass Box stand at the show)! Beautiful memories but now difficult to remember given the brand's current range.
Seeing us in distress, he offered to drive us to a place that we should like.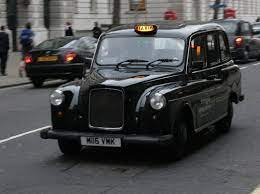 We are sitting in a London TX4 heading towards the western districts of the English capital. We reach Gunnersbury (stuck between Twickenham and Wembley) and arrive in an industrial area in front of a building called CHISWICK STUDIOS!  What are we doing here?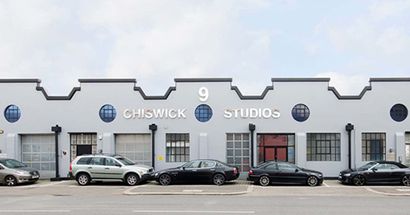 Once inside we quickly understand where we are: in the holy of saints of any whisky lover: John Glaser's laboratory! "But no, no, no, we don't deserve to be here, we just missed our plane!! »
The laboratory is worthy of the INRA research centre! Test tubes, test tubes, jars, jars, a deer skull (??!!!) and in the center a large table covered with samples filled, we suppose, with beautiful things.  On the ceiling a magnificent chandelier made of empty (stylish) bombs. On a door a map of Scotland to remember the theme of the place. The last time we saw such a place was during the reconstruction of John Glaser's workshop with live whisky at the Palais de Tokyo in Paris in 2010.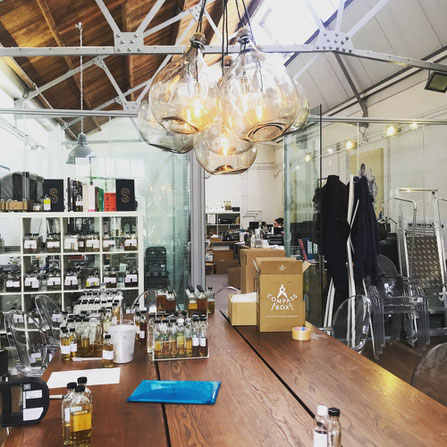 A door opens and a man enters with a large bomb filled with a gold liquid in his arms. John Glaser himself!!! "We don't deserve to be here!!!!! »
Chris introduces us and makes him understand that we are French people who love his work. He tells us "do you want to test a production? » ! But why us????. He even asks us what we want to test? As good French chauvinists, we evoke the Spice Tree (finished in oak barrels from the forests of France)!  He tells us "ok ! but we will remake the Extravaganza version" (limited series made in 2015 NDLR).
He explains the whole process to us. He takes different samples on the desk on which are noted the names of distilleries: Glen Ord (from Rosshire to northwest Scotland), Benrinnes and Allt-a-Bhainne (both stuck between Aberlour and Dufftown in the heart of the Highlands). He also takes 3 other samples a little more mysterious but filled to his satisfaction with more or less old mixtures and different finishes of Clynelish, Dailuaine and Teaninich (three distilleries in the Highlands). Then, he slides more or less large doses of liquids into his large measuring cylinder. The moment is solemn and the only sounds we hear are those of the liquid flowing and a fly flying and eventually landing on the chandelier. As if we were facing an alchemist, we see the liquid gradually darken to become dark and even turn into gold!  
We who were already proud to have "participated" in the choice between the "sherry" or "smoke" versions of the Great King Street at Whisky Live 2013, we are completely satisfied! The feeling of being where you needed to be at the right time!
Chris then took several glencairn to check if the alchemy was up to the task.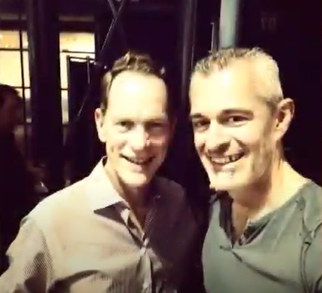 So here we are between John and Chris smelling a liquid that when you plunge into it the first time, explodes notes of sherry and red fruits of all kinds. Then you have to take a step back (and some air because it still titers at 46°). But the desire is stronger than anything else and our nose returns this time to take a deluge of fruit smells that could have been stored in wooden baskets. It is only during a third passage that the references to its original name stand out with the freshness of the spices but sifted with honey.
We look at each other and immediately launch a "slainte mhath"!
But the feeling is strange to taste such a drink with the person who created it!

In the mouth this whisky is sweet despite its degree of alcohol. It brings out the sugar taste of the red fruits announced on the nose. In the mouth, the sugar of the fruits gives way to a little more woody sensations (certainly those brought by the mixture of all the barrels that contained the components of this blend) but still maintaining a bottom of fruit. As in the announcement, lemon spices appear just before the liquid buries itself in our throat.
This last sensation makes it possible to make the transition with a finish that is quite long and leaves in the mouth a marked taste of exotic spices.
Certainly we did not have the French oak scents we had requested from our host of the day (we are not the boss), but the feeling remains superb and the memory of this beautiful unforgettable day: I will say thank you to British-Airways for this disappointment and to Chris (maybe not for compbox) and John at the whisky live in Paris!
For my part, the writing of this tasting trip marks the end of my bottle of Compass Box Spice Tree Extravaganza (which I would now find difficult to find as it was part of the limited edition of 2015). You must know this very unpleasant feeling of the end of a bottle that you would never want to see happen.