My virtual road in Scotland, today takes me to the north of Speyside, almost on the north coast. I am in the town of ELGIN. Nevertheless, if I'm here, it's not (yet, but it will be for another time) to taste a Linkwood, a Glen Moray, a Longmorn or a Glen Elgin and visit each of the distilleries, but to visit a friend Juliette B (for anonymity) and give her a hand in a vague story of terracing.
In short, here I am in the city aboard my trusty BRAD PEAT, all farting out to make the owners of the Moray Motor Museum pale. After a short walk in the old cathedral and a helping hand, Juliette suggested me to go further south a little after the distillery where she officiates, GLENALLACHIE, to taste an exceptional Blended Malt. The MACNAIR'S LUM REEK 21 YEARS.
So here we are again heading south for a litte half-hour drive through the magnificent landscapes of Speyside towards Charleston of Aberlour. Arrived in the city we leave the distilleries road to continue further south towards Milltown of Edinvillie. We arrive in front of the big gate of the GLENALLACHIE distillery, but of course (confinement obliges) if it is open, the distillery is still closed. Juliette tells me to follow the road even further south towards the nearby mountains.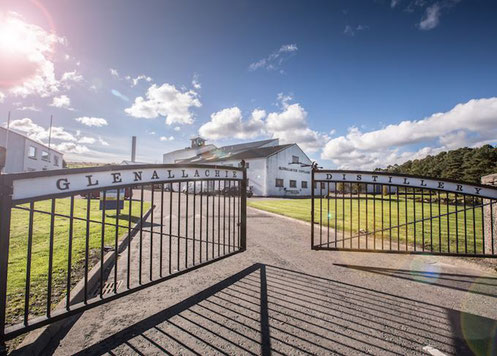 We finally leave the road to take a dirt road, which tends to shake BRAD PEAT. After a few minutes on this corrugated iron, we arrive at the top of the hill facing a stone building. Behind us, a beautiful view of the valley and in front of us a bothy.  Juliette tells me we are there!
A tasting here in the middle of nowhere?
From the bothy's chimney, a thick smoke comes out, with a recognizable smell: a peat fire! There must be someone in it.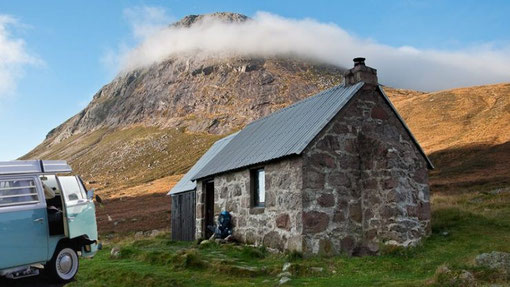 Like any good bothy, the door is always open. So we enter a dark room with a ceiling full of smoke (also called reek, well!), at the limit of breathability (the chimney flue would perhaps deserve a little sweeping - it seems to be called "lum reek" in Gaelic! well, well!). The room smells like burnt peat, like a malting tower. You could almost catch the phenols with your hands! Also in the room you can guess barrels, and a table on which many samples and measuring glasses, test tubes and other Glencairn for tasting are placed. It was like being in an alchemist's laboratory.
Walking through the room, we discovered, as if from the fog, a man sitting...certainly the alchemist in question.
Juliette introduces me, this is BILLY WALKER, the magician of the GLENALLACHIE distillery! He was in the middle of creating blended malt in a most atypical blended room.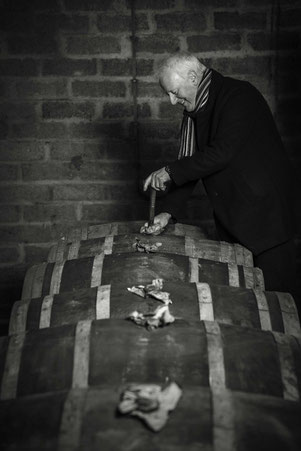 I ask BILLY WALKER why he isolates himself like that to create his blends? He replies that it's a way of honouring the memory of Harvey MacNair who created his first blends at the end of the 19th century in the torpor of peat smoke. He also tells me that he is trying to reproduce the original blends by adapting them to the present time. To do so, he mixes single malts from Islay, Speyside and finally from his distillery GLENALLACHIE (only single malts since we have here a blended malt) passed in bourbon casks, new hogsheads, old red wine casks, or even puncheons from Pédro Ximenes or sherry butts from Oloroso. Clearly the work of an alchemist.
To prove to me, if need be, that his blend malts are among the best, he offers me to taste his 21 years old (PEATED and 12 YEARS OLD brother's).
He takes out a bottle on which you can see a drawing of Harvey MacNair's face surrounded by a cloud of smoke. I'm beginning to understand what we're doing here. Billy says he has blended distillates here that are at least 21 years old, aged in virgin oak, red wine and Oloroso sherry casks. He also says, that the colour of the liquid flowing into the glass, a beautiful dark gold colour (as you might find with a sweet white wine from the south of France without wanting to be too chauvinistic) is meant to be reminiscent of the autumn period in the speyside forests (the period Harvey MacNair cherished for fishing for salmon trout). It seems that at BILLY WALKER nothing is left to chance (but we suspected it a bit...).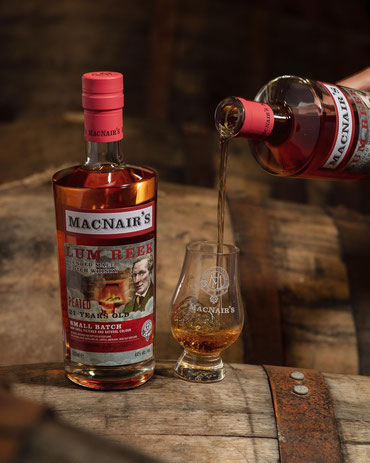 Offering us to smell his malt blend, he is proud to share with us his palmares: World's Best Blended Malt at the World Whiskies Awards, 2020, Best Scotch Blend Malt Double Gold at the San Francisco Awards in 2019.
It's a mouth-watering story.
It is also feverishly considering the place, the host and the distillate that we dip our nose into the glass.
Here we have a surprising sweetness to the nose. We can feel that in 21 years the angels have happily served themselves on the 4 different distillates that make it up.
As if following the life of a tree, it will first release woody and fresh smells of a tree in spring but with a hint of smoke. The phenols in the peat are very discreet (and perceptible when the nose is not yet frankly in the glass). Billy tells us that his aim was not especially to make a big peaty whisky, but to remind us of the way Harvey MacNair tasted it on a peach night: a speyside whisky tasted in a sufficiently smoky atmosphere to leave its smell in the glass. 
On the other hand, they are quite present (and accompanied by a hint of cinnamon) when you slip it in and rub it in the palm of your hand. The life of the tree continues with the fruits it produces because at the second passage, aromas of pears and grapes will come. The life of this tree will end on much drier aromas of its end of life: cinnamon aromas with a hint of cloves. Before ending up in smoke when the nose is moved away from the glass.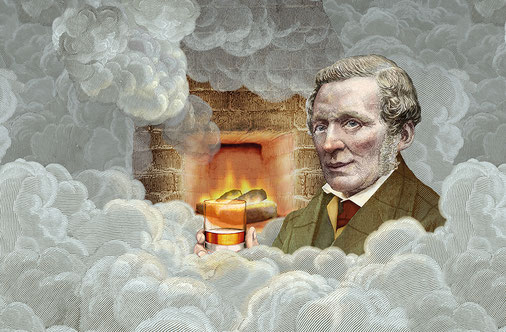 Billy, happy with his first effect, exclaimed in "Anglo-Scottish": "Lang may your lum reek - slainte mhath" (may your chimney smoke for a long time - healthy)!
As much on the nose it is discreetly sweet, as much on the palate it shows its presence from the top of its 48% alcohol content. 21 seconds of travel through Scotland. We will start at the entrance with a passage through the Bruyeres and the land of Speyside (with a first taste rather earthy), then we will make a tour in its forests (with a wooded point) in its hives (with a hint of honey). After a few seconds we leave in the direction of the Queen of the Hebrides with a beautiful peaty aroma made fresh by the sea air and the spices that accompany it. We then return to Speyside to find fruit aromas from the distillate from the north of Scotland and to finish with a hint of dark chocolate, almost peppery, from the cask of Oloroso.
Once swallowed, the journey ends in the throat with a hint of liquorice and a smell of cold tobacco but still keeping the sweet sweetness of honey.
If Billy Walker's objective was to take us back in time to the time of the Excise Act in the 19th century when barley was still dried with peat, then he has succeeded.  But we don't have to take all his time and let him create.
So, happy with this beautiful discovery and tasting, we get back on board BRAD PEAT and take the road north towards Elgin to take Juliette back and, for me, to continue on towards the Vallée de Forgue (who knows there might be a distillery there).